Honda Endurance team scoops second place at the 24 hours of Catalunya
14/07/2015 08:40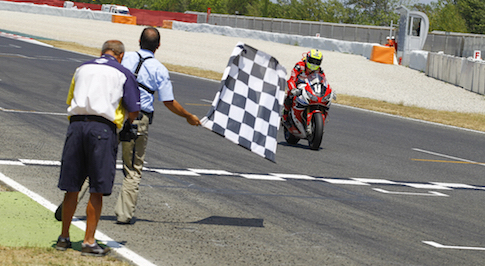 Honda Endurance team scoops second place at the 24 hours of Catalunya
The Honda Endurance Motorcycle racing team placed second at this weekend's 24 hours of Catalunya race in Barcelona.
The event saw teams racing non-stop for 24 hours despite the high temperatures at the Circuit of Barcelona-Catalunya.
Honda endurance specialists Julien Da Costa, Freddy Foray and Sébastien Gimbert were racing onboard a Honda CBR1000RR Fireblade SP and took their place on the podium with a 9-lap gap above the Tecmas Endurance team in third place.
For a long period at the beginning of the race, the Honda team had been leading until technical issues kept the CBR in the pit stop for longer than intended. During this time, the Yamalube Folch Endurance team in second place managed to overtake and gain a ten-lap lead.
In an attempt to close the gap with Yamalube, Sébastien Gimbertand recorded the fastest lap on track with a 1'48.515 lap time.
The Honda team is determined to take a positive home from the race, which they saw as a pre-Suzuka test.
French rider Freddy Foray commented: "We finished in second position so obviously as competitors we would have preferred to finish first. I think that what we have to keep in mind is that we mainly came here to test things and to finish the race. In spite of everything, it is really great to finish a 24-hour race, it is a pity that we had a few issues that cost us the victory but now I think that we can be really confident ahead of the Bol d'Or."
by: Laura Thomson