Honda to reveal sporty new Civic Tourer concept at Frankfurt
11/09/2015 14:33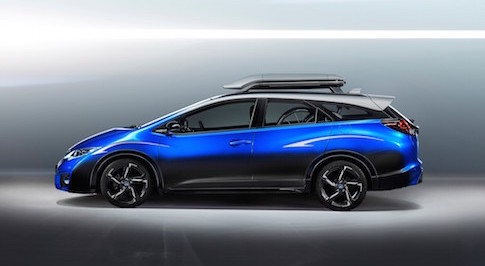 Honda to reveal sporty new Civic Tourer concept at Frankfurt
At the upcoming Frankfurt Motor Show, Honda will reveal its Civic Tourer 'Active Life Concept' with an emphasis on the Tourer's C-segment leading cargo space and versatility.
With a unique centre fuel tank layout, the Civic boasts an impressive 1668 litres trunk space with a number of features designed to make storing unconventionally shaped items easier.
A smart loading rack is capable of transporting two bicycles, and includes a retractable arm that can be extended from the rack in order to carry out maintenance and repairs. A built in integrated air pump, a large light located on the tailgate, an extended shade area and a retractable bench continue to make the Concept an ideal vehicle for cycling enthusiasts.
Located within the trunk side lining are a number of further helpful accessories. These include a toolbox, a bottle holder, water tank and a front wheel holder. Another clever storage idea is the special aero shape roof box designed to accommodate essential cycling accessories such as shoes and helmets.
The exterior styling lends to the sporty theme of the car, with a custom blue paint finish and a silver roofline that accentuates the cars aerodynamic design.
by: Laura Thomson