Local car dealership steps in to provide Easington Colliery AFC with a brand new kit
28/09/2015 14:29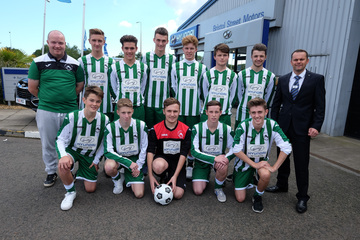 Local car dealership steps in to provide Easington Colliery AFC with a brand new kit
Bristol Street Motors Hyundai Peterlee has kicked off its sponsorship of a local football team by providing them with brand new kit.
The Mill Hill based dealership has provided the U17 Easington Colliery AFC team with funding that has enabled the club to purchase a new brand new strip in time for the new season.
David Williams, whose son has played for team since its formation, manages the team. He said: "We have a fantastic group of lads, many of whom have been with us since the age of six. I've been coaching the team for around seven years, but my son has been a member since the team was formed.
"We've struggled to find sponsorship in past seasons and kit for a full squad of players is very expensive, so the whole team and management are extremely grateful to Bristol Street Motors for the support they've provided."
The club was formally known as Easington District Eagles until a merger with Easington Colliery at the beginning of last season saw them take on a raft of talented new players and a new moniker.
Since the merger, the club has been at the heart of the community with players from all parts of the town representing their hometown with pride in the Russell Foster U17 Premier League, the top flight for local youth teams in the North East.
David added: "The lads work extremely hard in training every week and support like this is essential for their progression and success."
Billy Taylor, general manager at Bristol Street Motors Hyundai Peterlee, said: "We are delighted to be sponsoring the Easington Colliery U17s and to be able to provide them with new kit for the new season.
"At Bristol Street Motors Hyundai Peterlee, we understand that local businesses have a responsibility to support local organisations.
"Sport plays a very important role in bringing the local community together. The fact that many of the players have been with the club since they were six demonstrates how strong the community bond is within the area and that's something we're pleased to be involved with."
"We wish Easington Colliery all the best for the coming season."
by: Laura Thomson