New recruits at Vertu Honda Derby
08/08/2018 10:17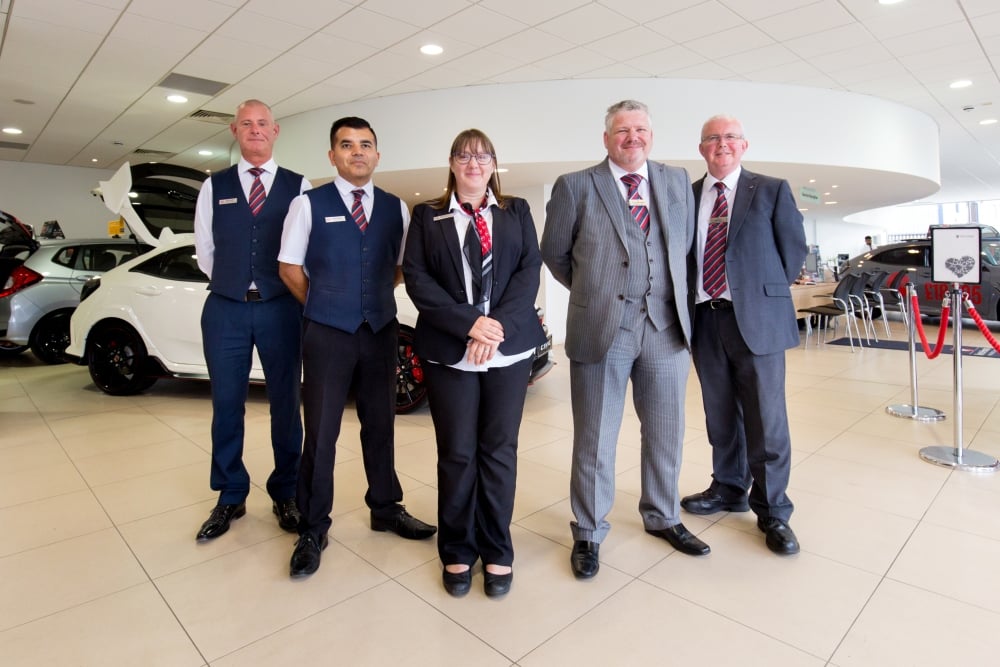 New recruits at Vertu Honda Derby
Vertu Honda Derby is welcoming three new recruits to its sales team following a strong period of growth.
The dealership, on Sir Frank Whittle Road, has welcomed three new sales executives to the team. Andrew Kinsey and Vik Sandhu have more than 25 years' experience in the motor retail industry and Anne Robinson is starting her first role within the sector.
Vertu Honda Derby is also celebrating the dedication of two of its colleagues. Jeffrey Rex has worked for an incredible 42 years, while general manger, Peter Wileman, who joined the dealership in 2014, has worked in the Derby area for almost 30 years.
Vertu Motors, which operates the Group's Vertu Honda dealerships, recently invested over £100k in a refurbishment of the Derby site. The showroom has increased in size, allowing customers to see a wider variety of new cars on display and the area has been completely reorganised with the best-possible customer experience in mind.
In addition to the larger showroom, the dealership has also bolstered its facilities for customers, including a redecorated lounge area, disabled access toilets, refreshments, TV and a customer information station with free Wi-Fi.
Peter Wileman, general manager at Vertu Honda Derby, added: "Following our recent refurbishment, we are able to provide our customers with the complete Honda experience, in time for the arrival of models such as the Jazz Sport, Civic diesel, Civic 4 door and the all new CR-V inc hybrid. As always, we will continue to provide first class customer service, whether it's a new customer or a familiar face.
"We have also seen a period of promising growth, which has allowed us to expand our sales team. We are delighted to welcome Andrew, Vik and Anne to the dealership and I would especially like to thank Anne, for choosing to start her career in the industry with us. Vertu Motors has made a significant investment in our dealership and the Derby area and we are excited about what the remainder of the year holds."
Anne added: "I am excited to start my career in the motor retail industry with a forward-thinking company like Vertu Motors. I'm keen to get to know my colleagues and to learn as much as possible from an experienced, friendly team."