Vertu Motors Celebrates Its Top Performers
03/07/2019 11:27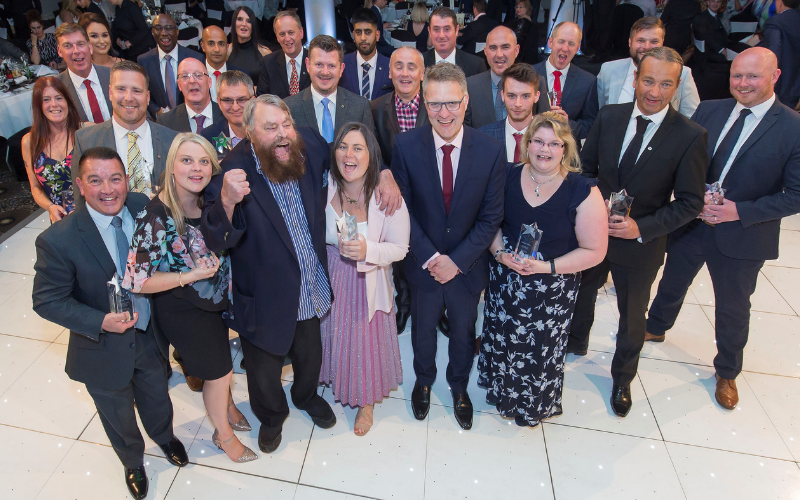 Vertu Motors Celebrates Its Top Performers
Vertu Motors plc enlisted larger than life actor Brian Blessed to help reward its top performing colleagues at a glamorous national award ceremony in Leeds.
Vertu Motors inducted 27 new members into its Masters Club, which recognises colleagues from the Group's 125 dealerships who have excelled in their role and delivered outstanding levels of performance.
The winners were chosen from nominations made by their colleagues and 2019 saw a record number of nominations submitted.
The award ceremony held at the Queen's Hotel in Leeds on July 22nd, 2019, featured colleagues from every area of the business, including drivers, valeters, apprentices, sales executives and administration colleagues praised for their performance.
The glitzy event featured Strictly star Anton du Beke tripping the light fantastic with Erin Boag and music from Killer Queen, the leading tribute act for Freddie Mercury's iconic group.
Robert Forrester, chief executive of Vertu Motors plc, said: "Recognising and rewarding excellent colleagues is one of our key Values.
"The Masters Awards is an opportunity for us to thank our colleagues who go the extra mile, and in many cases do so over a very long period of time.
"Each goes above and beyond to ensure customers receive the very best customer service. They represent the very best in the business, and I look forward to working with them to further develop their skills and help them be the best that they can be."