Adrian Skow wins 'General Manager of the Year' Award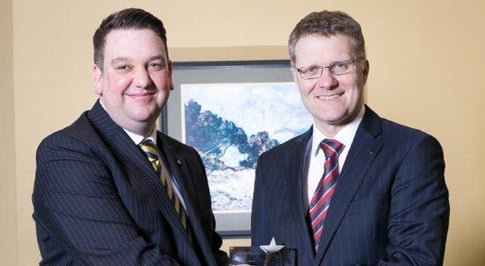 Adrian Skow, the general manager at Bristol Street Motors Exeter Hyundai and Renault, beat over 100 other managers to be named 'General Manager of the Year' at Vertu Motors' annual management awards held at the Eslington Villa hotel in Gateshead.

Vertu Motors Plc, the UK's fifth largest motor retailer (Motor Trader Top 200, December 2015), which owns Bristol Street Motors, Macklin Motors, Farnell Land Rover, Vertu Volkswagen and Vertu Honda, honours talented managers from across the Group at its annual CEO Awards dinner, hosted by CEO Robert Forrester.

Adrian has led a turnaround at the dealership in customer service and colleague satisfaction since joining the Marsh Barton Road site from Bristol Street Motors Bristol Mazda in March 2013.

The dealership's sales and servicing departments are consistently rated amongst the best for customer satisfaction across the Group. It is also the highest rated dealership for Hyundai customer satisfaction, according to feedback collected by the Korean car manufacturer.

Robert Forrester, chief executive of Vertu Motors Plc said: "Since taking over the general manager position at Bristol Street Motors Exeter, Adrian has massively improved the service we deliver to our customers as well as colleague satisfaction reviews, demonstrating that a happy team truly is a successful team.

"One of our core values as a business is to recognise and celebrate excellent performance and our annual management awards are a chance to do just that.

"Every year that we hold the awards it becomes harder and harder to decide on a winner, everyone who is nominated has performed exceptionally well over the year and is at the very top of their game.

"It gives me great sense of pride to know we have so many amazing individuals on board and fills me with great confidence as we continue to build the business in 2016."

Adrian said: "I am so pleased to have won the General Manager of the Year award. Having worked in the motor industry for a number of years, many of which have been spent with Bristol Street Motors, I knew that Vertu Motors is a company which recognises the hard work of its colleagues, but to be recognised in this way is definitely a career highlight for me.

"We're in a great position at Bristol Street Motors Exeter Hyundai and Renault and we want to build on our successes to retain our position as the Hyundai dealership with the best customer service score".