Apprenticeship awards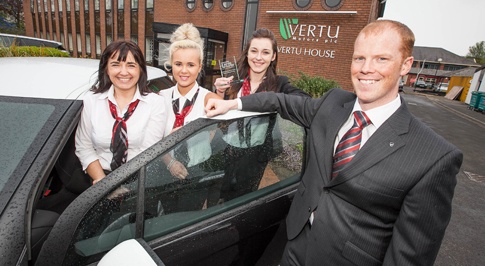 Two Vertu Motors PLC colleagues have been recognised for their hard work after taking home esteemed awards at the UXL Celebration of Achievement Awards.
Sophie Gibson and Hannah Cuthbertson both claimed the Outstanding Achievement in the Apprenticeship category at the awards ceremony that was held at The Assembly Rooms in Newcastle.
The awards ceremony was hosted by Key Training and recognised that Vertu Motors PLC has made a positive impact on youth employment by providing opportunities in admin departments. Vertu Motors PLC, which trades under the Bristol Street Motors, Macklin Motors and Vertu Honda brands has its head office in Gateshead, and employs over 650 colleagues in the North East.
Sophie and Hannah, both 18, have been with Vertu for just under a year, having joined after completing college. Sophie works as an apprentice in the HR department, while Hannah is a Customer Service advisor in the Fleet department.
Sophie said: "It's amazing to have won this award. I'm really enjoying working at Vertu, I'm learning loads and it's good fun. To then be recognised for my hard work is such a good feeling."
Hannah said: "It was fantastic to win this award and it has made both my Mum and Dad proud, which is such a great feeling. I have worked hard in my role in the Fleet department and I was made full-time in March, which I am extremely happy about.
Sophie studied Business Administration at Gateshead College and was offered her apprenticeship through Key Training. After studying her AS-Levels, Hannah was recommended for an interview after applying for Sophie's job, and instead was offered another role.
Hannah added: "I have a nice, little plaque on my desk to celebrate my award, which is on show to everyone!"
Matthew Barr, Human Resources Director at Vertu Motors PLC, said: "We are delighted for both Sophie and Hannah that they have been recognised for their hard work. Since joining Vertu the pair have impressed. Both girls have a bright future with the company and their achievements are fully deserved."
Shirley Young, Recruitment and Talent Manager at Vertu Motors PLC, said: "As a growing and successful company, we believe that it's vital to employ, train and develop a diverse workforce, and create an enjoyable and supportive environment in which to work. Apprenticeships offer employers the opportunity and funding support to employ a young person and help to grow their talent, as well as offering young people an opportunity to progress up the career ladder while gaining skills and qualifications. Sophie and Hannah are an absolute joy to work with and I am sure they both have a great future here at Vertu."