Beaconsfield Car Retailer Colleagues Celebrate 100 Not Out!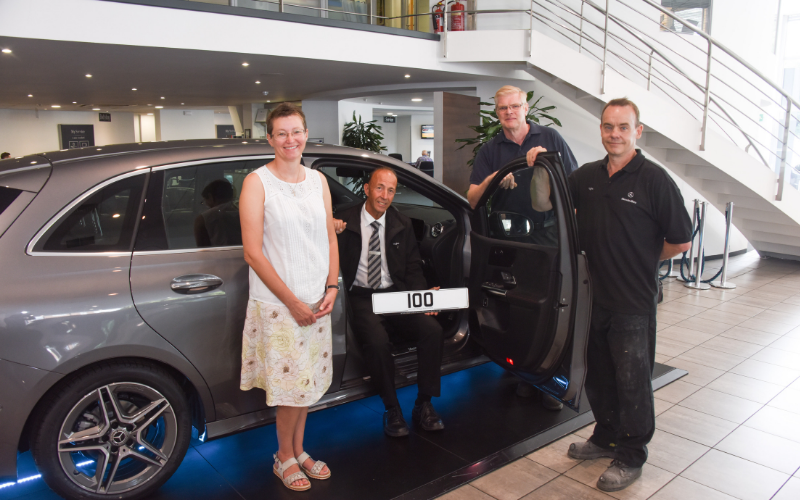 Four colleagues at Hughes Mercedes-Benz and Hughes Jeep in Beaconsfield are celebrating a century of loyal service.
Phil Da Silva (30 years), David Ward (20 years) and Ruth Ford (20 years) work for the Hughes Mercedes-Benz and Paul Screen (30 years) at Hughes Jeep.
Phil Da Silva, who works as a service driver, began his career at the dealership as a car valeter. He is described by colleagues as a great asset to the team' and praised for'his knowledge of the surrounding areas' meaning he is able to 'determine the most direct route to collect and deliver customers' cars.'
Painter David Ward makes a mean cup of tea' according to Paul Pittman, bodyshop manager. Paul also says that 'He has a lot of great qualities and he is a valuable member of our small team of painters' and has described him as an 'asset' to the Bodyshop operation.
Administrator Ruth Ford has taken on many new duties over the 20 years as her role has grown and developed. She is the heartbeat of the dealership and when she is away is 'greatly missed as the department is just not the same.'
Paul Screen is a service & diagnostic technician at Hughes Jeep Beaconsfield. He prides himself on leading the way in all areas of new technology and is 'a font of all knowledge when it comes to Jeep products new and old' according to service manager Keith Tegg.
Simon Eggs, Hughes Mercedes-Benz market area director, said: "All four colleagues have not only demonstrated loyalty; they have ensured that they keep learning and developing despite having decades of experience.
"All are key members of the team and very popular with customers and colleagues, always having time to help and support those less experienced and going to extra mile to deliver exceptional customer service."