Birmingham Ford Commercials Last Van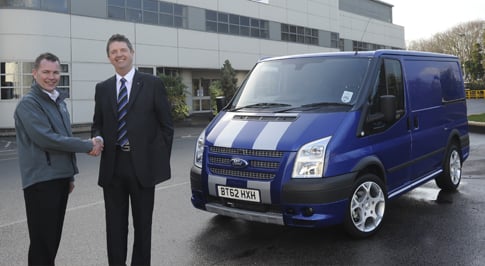 A customer of Bristol Street Motors Ford in Birmingham, which is part of Vertu Motors Plc the seventh largest motor retailer in the UK, has received the keys to the last ever Ford Transit Sport Van to be built on British soil.
Craig Spillard of Spillard Safety Systems, based in Wolverhampton, took delivery of the final Ford Transit Sport van at the Ford plant in Southampton. Handed over by the team which helped build it, the van will be an addition to the seven-vehicle strong fleet at the health and safety firm.
Spillard Safety Systems celebrated 20 years in business last year and was set-up by Craig's father, Victor Spillard. The business is managed by Craig, Financial Director and his brother Peter, Managing Director.
The safety specialists offer a range of equipment for vehicles including all-round vision convex mirrors, optronics, CCTV systems and solutions for detection. The business also carries out assessments and surveys in order to tailor its solutions offered to customers.
The Southampton Ford plant is due to close later this year after the announcement that Ford's last vehicle manufacturing site in the UK would cease operation after 40 years of production.
The first Sport Van, was launched at the Commercial Vehicle Show in April 2007. Since then about 500 have been produced each year. Demand remains high, particularly in the used market, where it is a sought-after vehicle.
Brian Naughton, General Manager at Bristol Street Motors Birmingham Fleet, said: "The Ford Transit Sport Van has been the UK's best-selling Commercial vehicle for over 45 years.
"We're delighted that one of our customers has purchased the very last Transit Sport Van to be produced from the Ford plant in Southampton. The established security business has just celebrated its 20th anniversary and owns several Ford transit vehicles for its engineers, many of which have been supplied through Bristol Street Motors.
"Bristol Street Motors is among the first major Ford Commercial dealerships to supply the new Ford Transit Custom to its customers from its showroom in Birmingham. The one-tonne Ford Transit people mover and commercial vehicle line-up has the adaptability to suit all customers, which reinforces Ford's reputation for value and durability."
Craig Spillard, Financial Director of Spillard Safety Systems said: "We feel very fortunate to have secured the last Transit Sport Van from the Ford Southampton plant. We have had great service from Bristol Street Motors, which has also supplied us with the company's fleet of Ford commercial vehicles comprising of six Transit vehicles and one Transit Connect.
"The Sport Van is very eye-catching and it will make a great addition to our fleet. The van is perfect for us to use at trade shows and to take to potential customers to demonstrate our products."
David Petts, Transit product manager for Ford of Britain, said: "The Sport Van has exceeded expectations in terms of its share of voice for the Transit product and has been extremely positive for the brand."