Bristol Street Motor Nation back Solihull Barons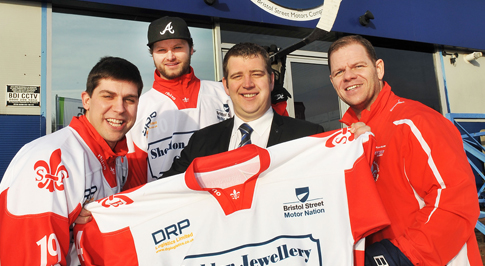 Bristol Street Motor Nation in Birmingham is supporting local ice hockey team, the Solihull Barons, as they climb the Northern Second Division of the National Ice Hockey League.
The support from the motor retailer has helped the team purchase new equipment including shirts, sticks, nets and help towards facility costs. Bristol Street Motor Nation's logo also features on the team shirts.
Bristol Street Motor Nation is an established quality used vehicle retailer, which is committed to supporting local initiatives. The 'car supermarket', based on Mackadown Lane, Garretts Green not only provides customers with a wide selection of used cars but also offers expert advice, ensuring customers get the best deal on vehicles that suit their individual needs.
Paul Collins, Used Car Sales Manager for Bristol Street Motor Nation, said:
"We are very proud to be sponsoring the Solihull Barons, whose training ground is down the road from our site. The ice hockey team is an important part of the local community and it has a lot of support, which we are very happy to be a part of.
"The whole team at Bristol Street Motor Nation wish the Solihull Barons the best of luck for their season and we hope to make it along to some home games."
Nigel Ward, Manager of the Solihull Barons, said: "We are really grateful for the support we have received from Bristol Street Motor Nation. It has enabled us to secure training facilities and important new equipment for our team.
"As a sporting team we see ourselves as very much a part of the Solihull community. We are proud to be supported by a range of local businesses, including Bristol Street Motor Nation, whose badge is carried on the front of the Barons shirt and who understand the value of engaging with local sports and local people."