Bristol Street Motors Announces Support For Newcastle Theatre Royal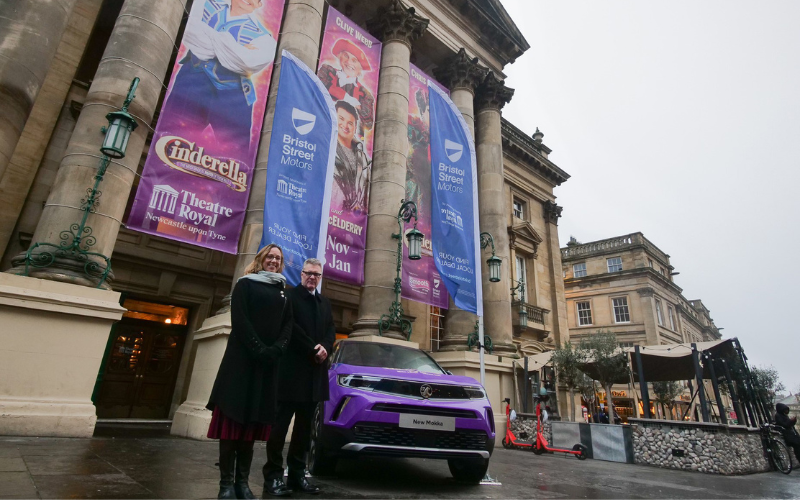 Bristol Street Motors, which operates five dealerships in Newcastle, is partnering with the City's Theatre Royal to support the iconic venue's extensive on and off stage programme of work.
The year-long association between the two well-known local organisations aims to raise awareness of Newcastle Theatre Royal's high calibre performances amongst new and existing audiences, further cementing its position as the flagship cultural venue in the city.
The partnership will see a range of hybrid and electric vehicles parked on the terrace outside the theatre's portico, to highlight upcoming performances including the festive spectacular, Cinderella.
Robert Forrester, Chief Executive of Bristol Street Motors, said: "Newcastle Theatre Royal is not just an iconic building in the City Centre, it brings world-class entertainment from a wide range of genres to Newcastle, working with the community to make arts accessible for all.
"I am very proud of this partnership, which I hope will support the Theatre Royal to reach even more people and continue to thrive following the challenges of the pandemic and lockdowns."
Newcastle Theatre Royal is one of only nine Grade I listed theatres in the country. Holding a reputation as one of the finest venues in the UK, the Theatre Royal ensures it is a key date in the touring calendar, bringing world class musicals, drama, dance, ballet, comedy and opera performances to the North East region.
Marianne Locatori, Chief Executive of Newcastle Theatre Royal, said: "Bristol Street Motors is a well-known and much respected company within the region and we're delighted to have them on board.
"As a registered charity that receives no regular funding, we continue to face many challenges as a result of the pandemic; this partnership will make a significant contribution to our efforts to rebuild and recover and do what we do best – presenting world class performances on our stage, to entertain hundreds of thousands of people from across the North East."