Bristol Street Motors backs Paul Harris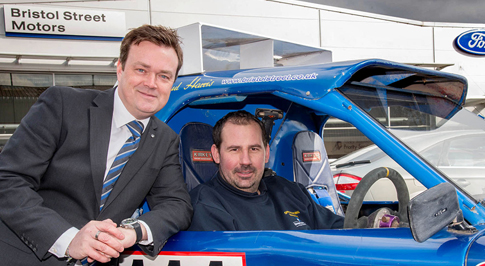 A Bristol Street Motor's workshop technician has swapped his wrench for a racing helmet as he prepares to defend his Britpart British Cross Country (BCC) Trophy title.
Bristol Street Motors Ford Worcester is proud to announce that it will be sponsoring the technician and reigning champion, Paul Harris, for the 2013 Britpart MSA British Cross Country Championship (BCCC).
The dealership has sponsored Paul for the upcoming BCCC season, after he funded last season's achievement himself.
In only his first competitive season, Paul exceeded expectations by taking the title in October 2012 after finishing the season with a total of 424 points, winning four out of the six rounds.
There will be a total of six race events this season, starting on Saturday, 20 April, at Pikes Peak in Wales. The season finish with the final race meet on Saturday, October 19, and Sunday, October 20, at Walters Arena in Glyn Neath, Wales, all of which will be featured on Motors TV.
Tony Trueman, General Manager of Bristol Street Motors Ford Worcester, said: "All of us at the dealership are excited for Paul in the upcoming season, especially since he exceeded everyone's expectations by winning the championship last season.
"Paul is an exemplary colleague, who always goes the extra mile for our customers, so it is great that we can help him out in this way. Bristol Street Motors is proud to support Paul for the upcoming season and grass root sports in general."
Paul has had a passion for mechanics ever since he left school and in his spare time he has managed to build two off-road vehicles which are both used for racing, with his first being a Tomcat, which is raced in Holland and the second, a GSR Maxilight which is used for the championships and is featured on Paul's own website.
Paul said: "I am very grateful to the dealership here at Worcester and Bristol Street Motors in general for supporting me with the kind sponsorship. I've always loved cars, ever since I was small, so motor mechanics is a life-long passion which was a fantastic career choice for me.
"As well as the sponsorship, I've had a great deal of support from my colleagues at Bristol Street Motors. It's a great company to work for, and I think this sponsorship just shows how much everyone here values and supports their colleagues. The money will really help my cause and I'm hoping that I can successfully defend my title in what promises to be a very exciting season."
The GSR Maxilight was bought by Paul as a bare frame two years ago and has been transformed into the championship winning off-road car of 2012.
Paul has his own seven tonne transporter which he uses to transport the car to and from events.
Mr Trueman added: "We are proud to sponsor Paul in something that is a great passion of his and something that he has worked so hard on after building his off-road car from scratch. Hopefully Paul will have another fantastic season and everyone here at the Worcester dealership is supporting him all the way."