Bristol Street Motors Newcastle named Dealership of the Year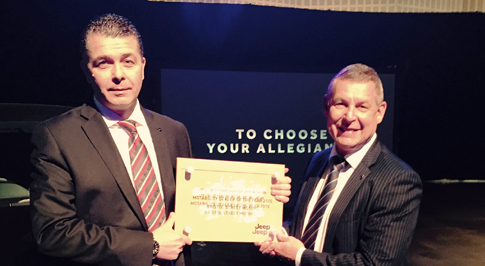 Bristol Street Motors Jeep Newcastle has cause to celebrate after being named Motability Dealer of the Year by car manufacturer, Jeep.
The award recognises the Scotswood Road dealership's exemplary sales and customer service record.
The site beat 68 other Jeep dealerships to take home the prestigious accolade at the Fiat-Chrysler Automotive Dealer Conference after selling more Motability vehicles than any other Jeep dealership in the UK.
General Manager, Dax Pearce said: "To have out-performed all of the 68 other Jeep outlets in the United Kingdom to win Motability Dealer of the Year is an amazing feat. I am extremely proud of our team for always going the extra mile to make sure every customer receives the best possible service."
"This award proves that our approach to business and customer service is paying off. Just like any customer, each Motability customer has individual requirements that we have to meet. We always do our best to make sure that we match each customer with the most suitable vehicle for their needs.
"We're looking forward to welcoming many more Motability customers through our doors this year. Hopefully we can bring home the award again in 2016."
The Motability scheme enables disabled people to exchange their Higher Rate Motability Component of Disability Living Allowance, their Enhanced Rate of the Mobility Component of Personal Independence Payment (PIP), their War Pensioners Mobility Supplement (WPMS) or their Armed Forces Independence Payment (AFIP) for a new car, scooter or powered wheelchair. Since it was set up in 1978, Motability has helped more than 3 million people get mobile with a brand new vehicle.