Bristol Street Motors Supports W Series Team In 24 Hours of Le Mans Virtual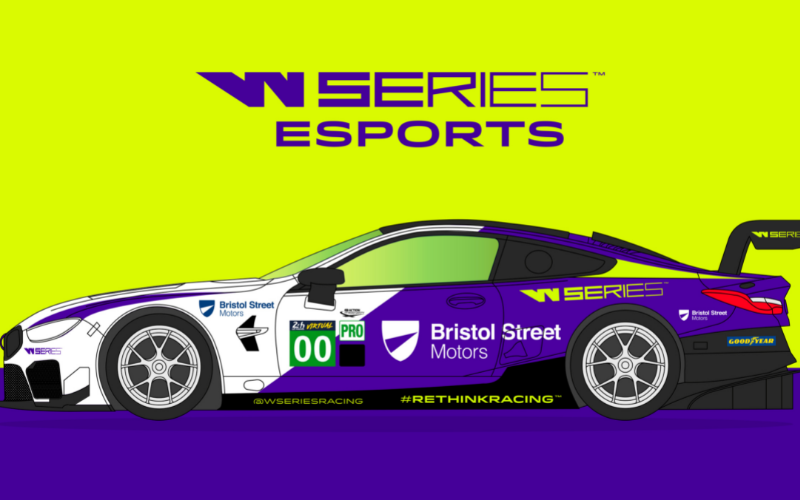 Bristol Street Motors is supporting W Series, the international single-seater motor racing championship for female drivers, to compete in the virtual edition of the 24 Hours of Le Mans race on 15-16 January 2022.
Professional W Series drivers Ayla Agren and Fabienne Wohlwend will be joined by sim racers Emily Jones and Lyubov Ozeretskovskaya to form the only all-female team to compete in the event, which is the finale of the Le Mans Virtual Series – a joint venture between the organisers of Le Mans, the Automobile Club de l'Ouest, and Motorsport Games.
The W Series Team will compete in car number 45 – a BMW M8 GTE – and be supported by Bristol Street Motors, who sponsored Channel 4's coverage of the 2021 W Series season.
Ayla and Fabienne were consistent performers during the inaugural W Series Esports League season in 2020, both finishing in the top half of the table and ending the season strongly by scoring podium finishes at the final round. They will not be the only W Series drivers competing in the iconic Le Mans event, as W Series Esports League champion Beitske Visser will race for the MAHLE Racing Team.
Lyubov's motorsport career began at the age of nine and she won her first title two years later at the Kazakhstan Karting Championship. Emily started karting aged 10 and has gone on to have a successful esports career, winning the Porsche Esports Supercup All-Star Series. The Australian is no stranger to the 24 Hours of Le Mans virtual race having competed in 2020 as part of an all-female team.
This year's entry list also includes current Formula 1 world champion Max Verstappen, 2021 IndyCar champion Alex Palou, seven-time F1 Grand Prix winner Juan Pablo Montoya, 2019 IndyCar Rookie of the Year Felix Rosenqvist, and Williams F1 reserve driver Jack Aitken.
Drivers will participate from around the world and the race will be broadcast live to an international audience via television and social media, with more details to follow in due course.
Liz Cope, Chief Marketing Officer, Bristol Street Motors said: "As the principal partner of the W Series Team in the 24 Hours of Le Mans virtual race, we're delighted to further extend our support of women in the world of motorsport. Bristol Street Motors is proud to be involved in anything that encourages equal opportunities for women in the motor sector, whether as a racing driver, a technician, or a sales executive. The W Series championship last year demonstrated the level of passion and skill that women bring to the sport and the wider automotive industry. The 24 Hours of Le Mans virtual race is an incredibly exciting event, and we can't wait to see how the fantastic W Series drivers perform."
Catherine Bond Muir, Chief Executive Officer, W Series said: "The inaugural W Series Esports League season was an overwhelming success, keeping our drivers sharp during the height of the COVID-19 pandemic and attracting a new audience to W Series and sim racing. Our entry into the iconic 24 Hours of Le Mans virtual race reflects our long-term commitment to the world of esports and creating opportunities for the world's best female talent in motorsport, both on and off track. The all-female W Series Team is an immensely strong one and I know that Ayla, Fabienne, Emily and Lyubov will inspire girls and women around the world with their skills."
Ayla Agren , W Series Team driver said: "If you had told me 18 months ago that I would be getting ready to compete in the 24 Hours of Le Mans virtual race, I wouldn't have believed you. I had very little sim-racing experience before the W Series Esports League was launched last year and, after a slow start to that season, I dedicated lots of time to improving and succeeded, scoring two podium finishes in the final four rounds to finish seventh in the standings. I am delighted to have been given this latest opportunity by W Series, and I'm working hard to be as prepared as possible for the race. Our team is strong, and I hope we can achieve a good result to show more young girls that esports and sim-racing are open to them."
Fabienne Wohlwend , W Series Team driver said: "I really enjoyed the W Series Esports League last year as it was great to learn a new skill and lots of new circuits. I got stronger as the season went on, scoring a podium at the final round, and that should stand me in good stead for the virtual Le Mans race which I've been able to fully focus on over the last few weeks. I really enjoyed the reverse-grid races in the 2020 W Series Esports League season as it is a great challenge going wheel-to-wheel and battling cars through the field. I'll be trying my hardest to pull off some exciting moves and entertain the fans watching Le Mans."