Bristol Street Motors Vauxhall Sunderland supports junior rugby team
16/03/2015 11:20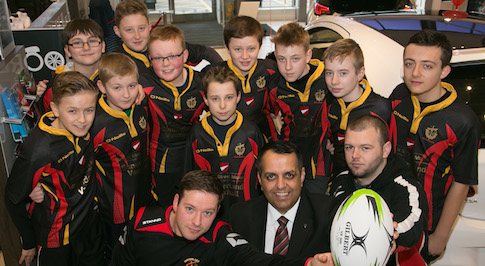 Bristol Street Motors Vauxhall Sunderland supports junior rugby team
Talented young rugby stars have been given a boost, thanks to Bristol Street Motors Vauxhall in Sunderland.
The Alexandra Avenue dealership has agreed a one year deal with Sunderland RFC Under 13s enabling the club to fund indoor training activities and keep floodlights working.
Established more than 100 years ago, Sunderland RFC encourages young people to keep active and enjoy rugby in a non-competitive environment.
The support from Bristol Street Motors Vauxhall Sunderland will give the club stability and allow the team to progress.
Graeme Richardson, Coach at Sunderland RFC Under 13s, said: "I am very grateful to Bristol Street Motors Vauxhall Sunderland for showing its support for the team. This support will allow the group to progress and develop and will contribute to their future success."
Jass Singh, General Manager at Bristol Street Motors Vauxhall Sunderland, said: "Sunderland RFC is very family orientated with a rich history and we are proud to be associated with them. We hope that this support will contribute to the success of the team and keep them active.
"Sport is very important to the people in Sunderland and here at Bristol Street Motors we like to support the community and give something back to the local area."
by: Becca Chaplin