Bristol Street Versa celebrates 25 years of business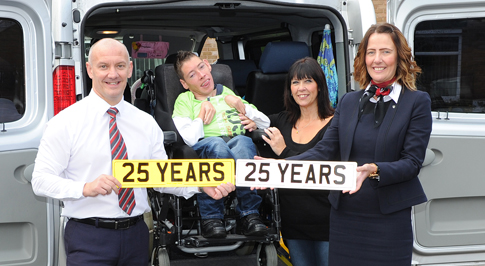 Bristol Street Versa, the specialist vehicle converter, is celebrating 25 years of helping thousands of wheelchair users stay mobile.
Since the Batley-based business was established in 1991, it has grown to become one of the UK's leading vehicle conversion businesses, transforming ordinary vehicles to provide people with disabilities with transport solutions.
From its first tender of just 15 vehicles, the Versa range has expanded to offer a variety of vehicles ranging from the smallest, capable of transporting two passengers and a wheelchair user, to the largest, capable of transporting eight passengers and a wheelchair user.
A quarter of a century after it was founded, the business, part of Vertu Motors plc, carries out more than 450 conversions every year, is now forecast to turnover more than £12m and exports its specialist vehicles to provide transport solutions to the largely rural New Zealand.
Phil Coppell, 28, from Wrexham, who has cerebral palsy, is one of the thousands of people who have benefited from Versa's expertise. He has swapped his mobility allowance in exchange for a new Renault Trafic wheelchair accessible vehicle (WAV), which is driven by his mother, Cally, and is specially adapted to allow him easy and comfortable access, allowing him to get out and about with ease.
Phil's mother, Cally Coppell, said: "Our WAV has been a godsend. Phil gets cabin fever very easily so we're always out visiting attractions and the beach, which would be much more difficult if the vehicle wasn't so perfectly suited to him.
"When we dealt with the team at Bristol Street Versa, they listened to our requirements and tailored the conversion to make sure we had everything we needed. I really don't know what we'd do without the van, it makes life so much easier."
Jo Ellison, general manager at Bristol Street Versa said: "It's fantastic that Versa has reached this milestone anniversary.
"The business may have grown considerably in size, and the sophistication of conversions has totally transformed, but the core ethos of customer service and satisfaction remains at the very heart of Versa.
"Each and every vehicle is made for a specific customer. We work with both members of the public and a range of corporate clients to ensure that every vehicle we provide perfectly matches their needs, whatever they may be."
The Motability scheme enables disabled people to exchange their Higher Rate Mobility Component of the Disability Living Allowance, their Enhanced Rate of the Mobility Component of Personal Independence Payment (PIP), their War Pensioners Mobility Supplement (WPMS) or their Armed Forces Independence Payment (AFIP) for a new car, scooter or powered wheelchair. Since it was set up in 1978, Motability has helped more than 3 million people get mobile with a brand new vehicle.