Bristol Street Versa deliver mobility to New Zealand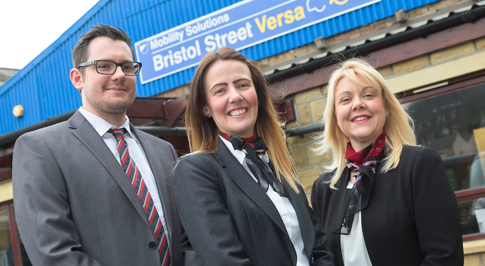 Specialist wheelchair accessible vehicle retailer, Bristol Street Versa has forged a new international partnership to export vehicles to New Zealand.
Bristol Street Versa has joined forces with Auto Brokers and Consultants Ltd, an Auckland-based transport company, to provide the population of New Zealand with mobility solutions manufactured to a European standard.
Part of Vertu Motors plc, Bristol Street Versa, which has outlets in Batley and Widnes, offers a wide variety of mobility vehicles and adaptions to the local area.
Noel Fleet of Auto Brokers & Consultants contacted Joanne Ellison, general manager of Bristol Street Versa, with the hope of filling the gap for high quality mobility solutions in New Zealand.
Noel said: "It was clear that the New Zealand market needed a more qualified vehicle. Before we began working with Bristol Street Versa, the market was dominated by vehicles which weren't subjected to as many quality and safety checks as those sold in Europe.
"One of the main appeals of working with Bristol Street Versa is the high standard of vehicle that they supply.
"Since we are one of the first companies in New Zealand to import wheelchair accessible vehicles from Europe, we have had to work closely with the Accident Compensation Corporation (ACC), part of the New Zealand government, that deals with the country's universal no-fault accidental injury scheme, to bring the approval processes up to European standards."
As well as supplying vehicles to the public sector, Auto Brokers is hoping the partnership with Bristol Street Versa will help to grow its presence in the private mobility vehicle market.
Bristol Street Versa has successfully delivered four vehicles to Auto Brokers since the partnership began last year and aims to deliver many more throughout 2016.
Joanne Ellison, general manager at Bristol Street Versa, said:"At Bristol Street Versa, we pride ourselves on delivering an outstanding customer service to mobility customers. As a specialist retailer, we work closely with our customers to find out the best solution for them, ensuring every customer drives away happy.
"We are thrilled to now be working internationally with Auto Brokers and delivering our products and services to customers in New Zealand.
"Our products make a huge difference to the lives of all our customers and it is a pleasure to make such an impact on an international level."