Callum Beattie's Tour Saved By Macklin Motors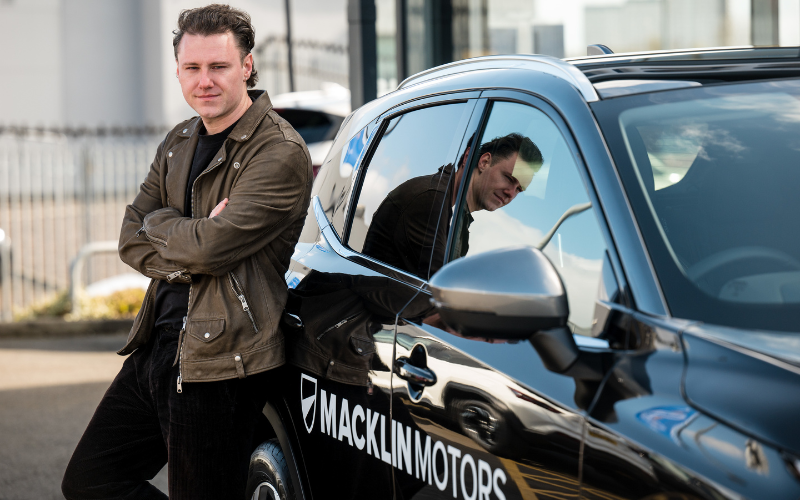 Scottish singer-songwriter Callum Beattie's UK tour was at risk when the funding for his bus was pulled, but thanks to support from Macklin Motors he has been able to get back on the road.
Callum, whose most recent album Vandals reached number one in the Scottish charts, was let down when the funding he was promised for his tour transport was cancelled, leaving the tour in doubt.
Not wanting to let down Callum's growing fan base, his manager Dave Rogers picked up the phone to Macklin Motors and secured the loan of a hybrid Nissan Qashqai for the 10-show tour.
Despite being able to write a great driving beat, Callum doesn't hold a driving licence himself, so manager Dave will be behind the wheel, giving the performer plenty of time to rest ahead of his shows. Callum and Dave picked up the Qashqai from their local Macklin Motors Glasgow South Nissan dealership.
Callum has previously worked with Macklin Motors through its relationship with his friend and fellow Scot, British Touring Car Championship (BTCC) racer 21-year-old Ronan Pearson. Callum helped Ronan reveal the livery of his 2023 season racing car – also supported by Macklin Motors.
Callum thanked the motor retailer for helping him get on the road, saying: "Like guardian angels, Macklin Motors came to our rescue and saved us by generously agreeing to provide a great car for the tour.
"The Qashqai, from their Glasgow South Nissan dealership, is a great size for fitting my guitar, keyboard and other equipment in. With being a hybrid vehicle too, it's certainly better for the environment than a large tour bus would have been.
"I knew the team at Macklin Motors from their support of my buddy, Ronan Pearson, so they were my first thought, and thankfully they were able to help out.
"I would have been gutted to let down everyone who has bought tickets, especially after showing me so much support over these last few years. There is nothing better than playing in front of a crowd!"
Paul Kerr, General Manager of Macklin Motors Glasgow South Nissan, said: "We were delighted to give local lad Callum Beattie a Nissan Qashqai for his UK tour. We're all fans of his work here, as are many of my colleagues across the Macklin Motors brand.
"We're very pleased that Callum can get out and see his fans; we wish him the best of luck with his gigs!"