Chesterfield Vauxhall welcomes its first degree apprentice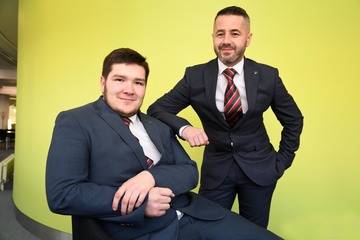 Bristol Street Motors Chesterfield Vauxhall has welcomed its first degree-level apprentice.
Jordan Wedge-Hopewell, 21, is training as an undergraduate service advisor at the Chatsworth Road dealership, while working towards a BA in Business Leadership & Management degree, in partnership with Northumbria University.
Before joining the company, Jordan studied Primary Education at Nottingham Trent University. In his spare time, he enjoys playing football and played the sport to a high level before suffering an injury that stopped him progressing further. Jordan worked part time in a restaurant, while considering his future career opportunities.
The degree-level apprenticeship programme offers talented young people the chance to gain a degree while earning a salary of £18,000 holding a full-time permanent role within the business. Vertu Motors plc, the Group which owns Bristol Street Motors, will fund £27,000-worth of tuition fees over the three and a half year course and the course is one of the first motor retail industry's degree-level apprenticeships.
This year, a group of 13 people are starting the apprenticeships, an increase from the 10 students who started last year, who are now commencing their second year. Like Jordan, students will spend the majority of the course in roles at dealerships across the Vertu Motors group, with the prospect of future progression into managerial roles.
Jordan said: "Last year I was at university and was essentially in full time education not gaining any work experience, which did not really suit me. I saw the degree apprenticeship opportunity and decided to take a leap of faith and apply for it. I am so glad I did, as I have only been in the role for a couple of months, but I can say I'm thoroughly enjoying both elements of the programme.
"The apprenticeship allows you to get the best of both worlds and I feel extremely optimistic about my future with the company."
Robert Forrester, chief executive officer of Vertu Motors plc, said: "The degree-level apprenticeship is a fantastic opportunity to gain a respected degree, debt-free in a dynamic industry. The programme was hugely successful last year and we are thrilled to welcome our new intake.
"We are always keen to take on talented, enthusiastic people who will fit with our values and our degree-level apprenticeship is not just something for school-leavers to consider. This year we have welcomed a strong mix of men and women of different ages, from a variety of backgrounds. I am excited to see how their careers progress over the next couple of years."