Cleeve Care signs £700,000 deal with Bristol Street Group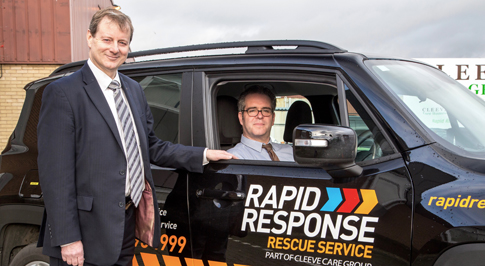 The Cleeve Care Group, which provides home care, residential care and specialist care for the elderly, adults with complex needs and children, has made an investment of over £700,000 in a new fleet of vehicles for its community carers and Rapid Response rescue service.
As one of the largest providers of care in the Midlands and South West, operating in and around the six counties surrounding Gloucestershire, the Group has taken delivery of eight Jeep Renegades and 54 Fiat Pandas from Bristol Street Motors Group Fleet division.
The Jeep Renegades will be used by Cleeve Care's Rapid Response rescue service, which ensures the group's clients still get their scheduled visits even in the most perilous weather and road conditions. The extensive investment confirms Cleeve's commitment to maintaining its 100% record in reaching all clients during the most hazardous winter weather.
The 54 Fiat Pandas will be used by the team to visit clients in their own homes within the six counties, helping them to prevent or postpone the need for residential care.
Robert Flexer, who co-owns the Cleeve Care Group with his wife, Maura Flexer, said "Our new fleet marks a large investment for the business and is part of a continuous development of our offering and services.
"Over the next few years we will be continuing to invest in our care services and are aiming to provide 100 more beds, as well as increasing our community care offerings for which the Fiat Pandas and Jeep Renegades will be indispensable.
"It is crucial that we are able to reach all of our clients at all times, regardless of the weather. Having put the Jeep Renegade through its paces on a rigorous test drive, we are certain that we will be able to reach even the most rural location with ease.
"Providing care services to someone within their own home provides them with more independence and familiarity than if they were cared for in a residential setting, which can be important, especially for clients living with dementia.
"Bristol Street Motors Group Fleet was the first choice to provide us with our new fleet. We wanted to deal with an organisation that could cope with the volume and range of vehicles that we need and also provide an excellent aftersales service.
"The customer experience from our initial approach through to the delivery of the vehicles has been excellent and we look forward to continuing to build our relationship with Bristol Street Motors Group Fleet in the coming years as we expand the group."
Tony Cullen, Business Development Manager at Bristol Street Motors Group Fleet, said: "We're extremely pleased to be able to provide the Cleeve Care Group with its new fleet of Jeep Renegades and Fiat Pandas.
"As part of our ongoing partnership, we will continue to work with the group to provide a full aftersales service, including repairs and maintenance on the vehicles. This will ensure that the vehicles stay on the road and continue to deliver excellent care services to clients across the Midlands and South West."