Dunston Silver Band looks forward to another year of success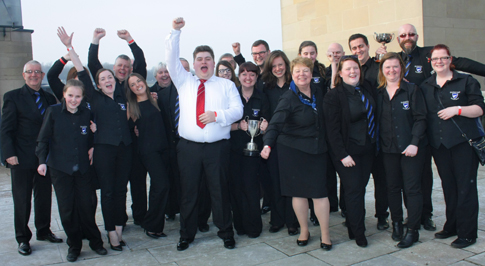 The Bristol Street Motors-backed Dunston Silver Band is hoping that a Capacity Building Grant from Gateshead Council will help it hit the high notes in 2017.
The band, which is sponsored by Gateshead-based Bristol Street Motors, is hoping to build on a busy and commercially successful 2016, which saw it play close to 30 concerts across the North East and saw competition wins at the inaugural Brass at Beamish (Section A) and North of England Regional Championships. It hopes to encourage more young people to find a passion for traditional music.
The Capacity Building Grant is being used for the ongoing development of the Youth Band, which works with young people aged from eight to 18 and was re-launched in 2016 with Royal College of Music-qualified music tutors. The Band has already started to bolster its youth wing, having held an event at Dunston Community Centre with Bedlington Community and Youth Brass Band, as well as students from local school bands, Dunston Silver Youth Band, and members of Dunston Silver Band, to encourage younger people to take up traditional instruments.
Keith Lee, Dunston Silver Band Committee Member and Trustee said: "2016 was a fantastic and very busy year for the Dunston Silver Band. The most pleasing aspect is that we now have a strong pipeline of talented musicians coming through the ranks, thanks to the relaunch of our Youth Band.
"It is important that we work with these gifted young musicians to develop their talents, and also support other young people to gain an appreciation for playing music, in order to secure the longevity of the band. Having the support of Bristol Street Motors means that we have consistent backing, which means that we can worry less about our finances and focus on the development of the band and making sure it is sustainable going forward."
Robert Forrester, chief executive officer of Vertu Motors plc, the parent company of Bristol Street Motors, said: "I've been a huge fan of brass band music since I was very young. For me, it is a piece of British, but especially North Eastern, heritage and I feel strongly that future generations should have the chance to enjoy this unique genre of music. The only way to do that is for bands like the Dunston Silver Band to continue to reach young people and provide them with the chance to learn an instrument and develop a passion for the music. I'm proud that Bristol Street Motors is able to help make that happen."
Keith added: "We're always on the look-out for new players for our Youth Band. We welcome anyone, regardless of ability, who has an interest in joining. As we have a team of fantastic tutors and experienced players, we can support a young person to learn an instrument, whether they are picking it up for the first time or progressing through the grades.
"We're more than just a band, we're a tight knit group of friends and many of our members enjoy the social side of things just as much as the music! There's lots of information on our website for anyone who is thinking of joining."
For more information on joining Dunston Silver Band's youth band, please head to http://www.dunstonsilverband.co.uk/youth-band/