Farnell appoints head of business for new £10.5m retailer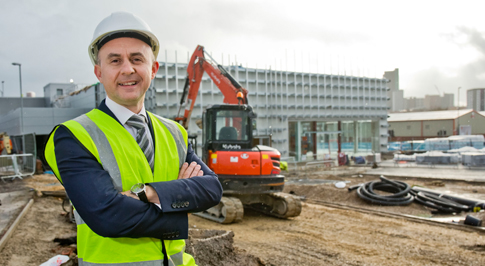 Farnell Jaguar Land Rover has appointed Rik Shield to oversee its prestigious new £10.5m retailer in Leeds.
Rik, who has been in the motor retail industry for more than 20 years, will manage the retailer's team of 110 colleagues, of which 98 are already currently part of the Farnell team at its existing Jaguar and Land Rover sites in Leeds. 12 new jobs, including three apprenticeships, as well as a range of positions in sales and aftersales.
Farnell Jaguar Land Rover Leeds is situated on Sheepscar Way in the city. Spread across three floors, the 90,000 square-foot features roof top parking and a dedicated barista café bar for customers, alongside a new and used car showroom.
The new retailer boasts a 'drive-through' service reception, allowing customers to easily drop-off and pick-up their vehicles when visiting the state-of-the-art retailer for a service from its expert team. As part of this service, customers are also offered a chauffeur service into Leeds city centre.
Rik started his career 23 years ago as a sales executive at a Peugeot dealership in Bradford, before being promoted to managerial positions. He has been with Farnell for more than a decade, managing both the Jaguar and Land Rover sites in Leeds, picking up Land Rover Retailer of the Year awards for three years in a row along the way.
Rik said: "The new site at Leeds looks amazing and I'm very excited to be undertaking this new adventure with Farnell. Both our Land Rover and Jaguar sites are currently at full capacity so this new site will allow us to expand and meet the growing demand for sales and servicing in the region.
"Customers will find there are added benefits for them too. They can relax and unwind in our barista café bar or if they'd prefer, we can chauffeur them into Leeds city centre whilst they wait for their servicing to be completed. It really is a five-star service."
The retailer is set to open its doors in January 2017.