Former serviceman gets into gear for Christmas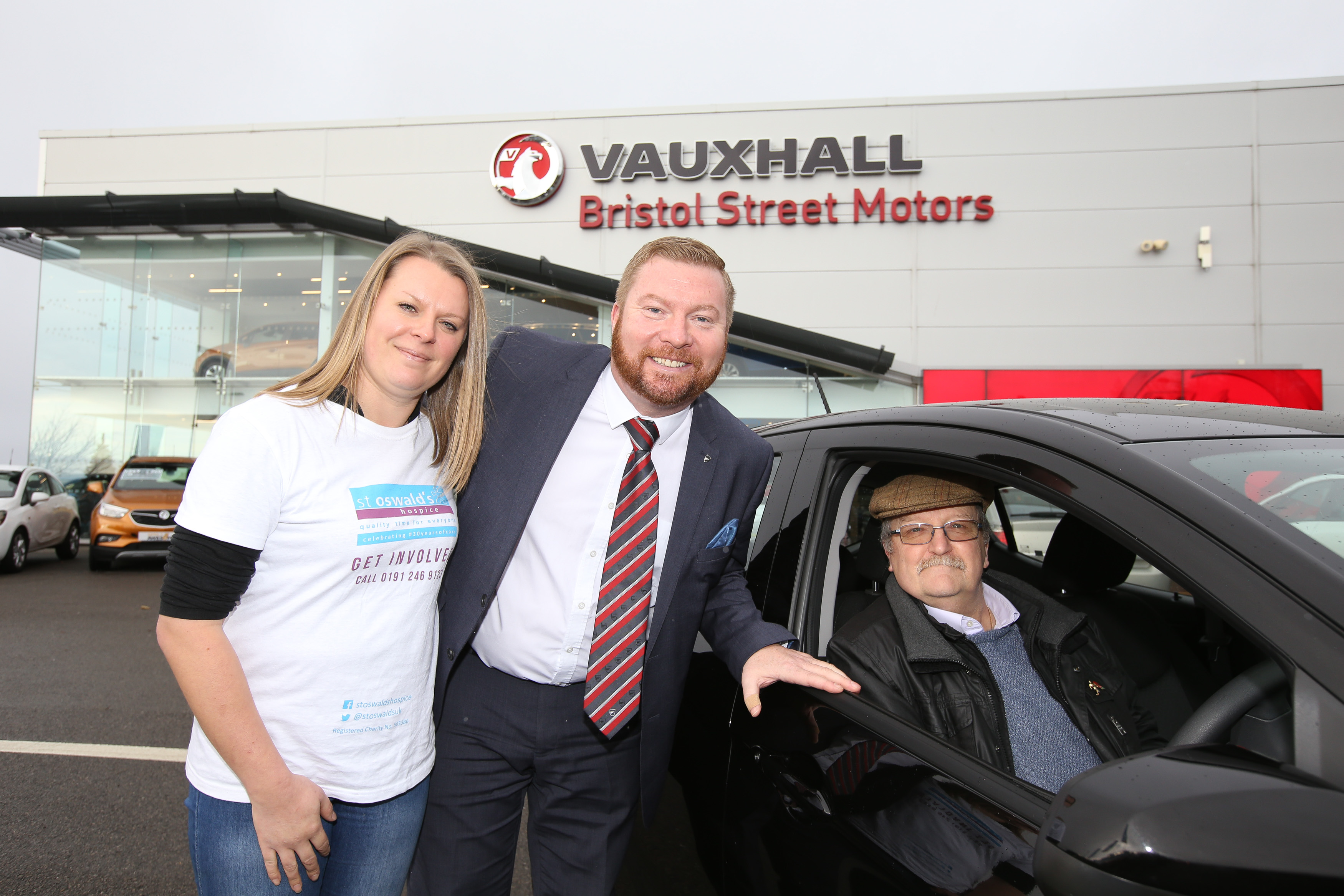 Bristol Street Motors is giving a St Oswald's Hospice supporter an early Christmas present in the shape of a 17 plate Vauxhall Viva SE.
63 year-old Ian Parker, who works for the Tyne and Wear Metro service, was in the process of looking for a replacement for his ten year old Toyota Auris, before winning his new set of wheels in a raffle with the charity.
Mr Parker was visiting a family friend of twenty years at St Oswald Hospice in Gosforth, Newcastle with his wife, Lorna when he purchased the winning raffle ticket and some gifts at the hospice's Christmas Market.
Bristol Street Motors donated the Vauxhall Viva SE as the first prize in the charity's Annual Raffle. Other prizes included £1000 voucher, donated by The Biscuit Factory and a £500 voucher donated by intu Eldon Square. This year, the Annual Raffle has raised over £40,000 towards the work of the local charity, which offers specialist care to adults, young people, children and babies with incurable conditions.
Mr Parker's friend, Derek, died at the hospice after spending almost four weeks on the Inpatient Unit there.
Mr Parker said: "I have never won anything before, so when I purchased the ticket, I thought nothing of it. Never in a million years did I think that I would actually win the car.
"I am blown away at the generosity of Bristol Street Motors for making the donation and its support of St Oswald's Hospice. Winning the car has certainly changed my life and has saved me so much money, but that's nothing compared to the work that the hospice does on a daily basis for people and their families. The car will also hold a special place in my heart, as it is another connection to Derek and a lasting memory of a treasured friend."
Nick Harding, general manager of Bristol Street Motors Newcastle Vauxhall added: "St Oswald's Hospice is doing fantastic, tireless work for people in our community and it's extremely important to recognise this and contribute where we can. They continue to support hundreds of families in the North East, in what is an extremely difficult time, and supporting them is our way of showing how grateful we are."
Anita Ball, Head of Income Generation and Marketing at St Oswald's Hospice said: "Without the backing of businesses such as Bristol Street Motors, we would not be able to continue our important work as a care provider for our patients and provide support to their families. Mr Parker is a deserved winner of the car and I would like to thank the people that bought raffle tickets and donated money towards our cause."