Hereford Audi unveils the results of £2M refurbishment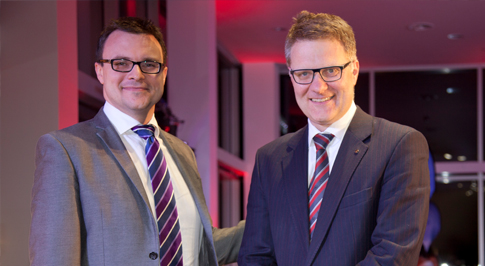 Hereford Audi has revealed the results of a £2million investment by owners, Vertu Motors plc, to improve and expand the dealership's services.
Following a nearly year-long development programme, which saw the expansion of the site's showroom and significant improvements to its technological offering, the Legion Way dealership was officially reopened by Vertu Motors CEO, Robert Forrester and Stefan Wyatt, head of network development at Audi UK, at a grand opening event, featuring magicians, live music alongside a display of classic and rare Audi models.
As part of the investment the dealership's showroom was extended to accommodate up to 11 display vehicles and further improvements have been made to the décor to bring it in line with Audi's latest corporate identity guidelines, including the installation of new plush furnishings and energy efficient lighting.
The expansion of the dealership has allowed for the creation of a Consultation Lounge, which will provide a confidential space for customers to meet with the dealership's specialist sales team to discuss their requirements and even create their own vehicle at the touch of a button thanks to newly installed vehicle design technology. Three new jobs have been created at the dealership in order to support the dealership's growing customer base.
Stuart Morley, head of business at Hereford Audi, said: "We're very pleased with the results of the refurbishment programme. The entire site looks fantastic and the improvements mean that we can better serve our customers and also provide our colleagues with a fantastic place to work.
"Hereford Audi has been a local dealership for more than 40 years and we have a lot of customers who have used our services for many of those years. This refurbishment and the launch of our new look dealership means that we will able to continue to look after our existing customers and welcome new ones for many more years to come.
"I would encourage local people to stop by to take a look at the improvements themselves and enjoy a cup of coffee in our new consultation lounge."
Robert Forrester, chief executive of Vertu Motors plc said: "Our investment in Hereford Audi and the creation of new jobs locally demonstrates our commitment to the area. The team at the dealership has maintained the excellent performance and commitment to customer service throughout the refurbishment period when they were working at a temporary showroom. I'm confident that both customers and colleagues will really benefit from the improved dealership."