Lichfield Motor Dealership Backs Teenage Athlete's World-Class Ambitions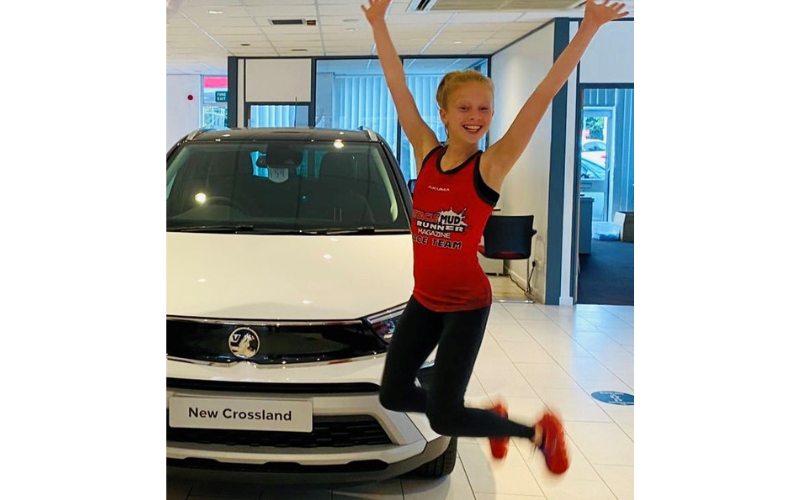 Bristol Street Motors Lichfield Vauxhall is helping drive the world-class ambitions of a teenage superstar athlete.
At the tender age of 14, Libbie Joyce already has made her mark in the world of extreme sporting challenges within the Obstacle Course Racing (OCR) community, which has been the subject of much discussion on Chris Evans Virgin Radio programme.
Libbie's sporting prowess and ambitions came to the attention of the dealership, based in Eastern Avenue, through her mum Katie, who is one of its customers.
This has included racing 14 miles across the desert in 100-degree heat to secure a silver medal and winning the Outstanding Achievement award at the European OCR Community Choice Awards for competing in the World Championships at such a young age.
Libbie also collected the runner-up prize in the Junior Athlete category for Europe.
The Friary Grange School student took on 30 obstacles in Abu Dhabi during her first ever adult Spartan World Championships event.
She is due to compete in the OCR World Championships in the Stratton Mountains in Vermont, USA, in September and also has qualified for the Europeans in Italy in June.
Her most recent success came in the Spartan 2022 UK Regional Series London West event, where she came 1st in the Beast race and 3rd in the Sprint race for the 14 – 17 age group.
In addition, the dealership's backing is enabling Libbie to take part in this year's Spartan UK races.
Libbie said: "I'm very grateful to Bristol Street Motors Lichfield Vauxhall for its support, without which making my sporting dreams come true would not be possible.
"I am determined to show people that with the right training and people behind me, anything is possible, even when I am so young."
Derek Webb, General Sales Manager at Bristol Street Motors Lichfield Vauxhall, said: "Libbie is our 14-year-old superstar athlete, and we could not be more proud to have the opportunity to sponsor her.
"What she has achieved at such a young age, in a very challenging and demanding sport, is phenomenal. She is an inspiration and an exceptional role model."
Libbie has Olympic ambitions, with those in the Spartan Race community pushing hard to make OCR an Olympic sport by 2028.
Libbie's mum Katie said: "Who knew when I bought a car from Bristol Street Motors that it would lead to Libbie securing such vital support?
"We are extremely grateful to Derek for choosing Libbie when it comes to the dealership doing its bit for the wider community."
Bristol Street Motors Lichfield Vauxhall's sponsorship funds Libbie's entry fees and kit, with the dealership's branding on her running tops. Libbie also writes regular blogs about her achievements, which pay tribute to the dealership for its support.