Macklin Motors Continues Its Support For Up and Coming Driver Ronan Pearson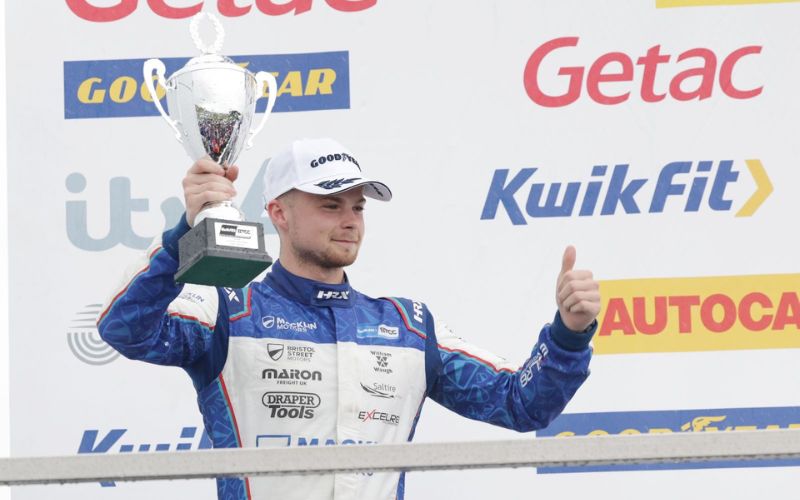 Macklin Motors has pledged its continued support for Kwik Fit British Touring Car Championship rising star Ronan Pearson as he agrees an extended deal with BRISTOL STREET MOTORS with EXCELR8 that will see him remain with the team for the next two seasons.
Macklin Motors, which is part of the same Group as Bristol Street Motors, is one of the leading motor retailers operating in Scotland, with a total of 19 dealerships including Hyundai sites in Edinburgh and Dunfermline.
21-year-old Ronan made the move up into the Kwik Fit British Touring Car Championship at the start of the 2023 campaign on the back of a successful three-year stint in the supporting MINI CHALLENGE, where he scored multiple race wins and took fourth in the points last year.
At the wheel of one of the four Hyundai i30 Fastback Ns being run by the BRISTOL STREET MOTORS with EXCELR8 team, Pearson has shown his pace with a number of eye-catching performances on track, most notably at his home circuit of Knockhill in August.
With a bumper crowd cheering him on, Pearson scored three top-seven finishes to secure a maiden victory in the Jack Sears Trophy; the award that is handed out to drivers who start a BTCC season without an overall podium finish to their name.
Pearson also led a BTCC race for the first time and picked up his best result of the year to date, taking fourth spot in the final race of the weekend.
Having backed up his Knockhill performance with three more solid points-scoring finishes at Donington Park, where he also set the fastest lap in a BTCC race for the first time, Pearson heads into the final meeting of the year amongst the drivers dicing for the Jack Sears Trophy title.
The 2024 season will kick off at Donington Park on the weekend of 27/28 April.
Ronan Pearson, Macklin Motors backed BRISTOL STREET MOTORS with EXCELR8 Driver, said: "It's hard to know what to say really, as the news I'll be staying with the team for another two seasons is absolutely massive for me and everyone who has helped me to get to this stage in my career.
"This season has been full of emotion for me at just how far I've come, but with the support of the team and my various partners, we've been able to achieve a huge amount and it has given me a real platform to now build on going forwards.
"To have the continuity of support from Macklin Motors and the BRISTOL STREET MOTORS with EXCELR8 team is fantastic, and it's incredible to be able to get this deal done so early when we still have two meetings of 2023 left to run. I know I'm in a sought-after seat, but it was a no-brainer for us all to get this deal done so we can continue with the work that we've done so far.
"It only feels like a few minutes since we were heading out testing at the start of the season, but I now really consider myself to be part of the BTCC and to know I'll be here for at least two more years is another boyhood dream come true.
"There are no words to describe how thankful I am to every single person and partner that has got me to this stage. We are all on this journey together and I can't wait for it to continue."
Justina Williams, BRISTOL STREET MOTORS with EXCELR8 Team Owner, said:
"When we agreed the deal with Ronan to move up from the MINI CHALLENGE this season, we were confident that he was ready to make the step into the BTCC - and he has certainly shown that to be the case.
"Like any driver coming into the championship for the first time, there have been highs and lows, which is what you expect when you join such a competitive championship given the strength of the grid. However, Ronan has shown that he has the pace to race towards the front with the very best, and he certainly hasn't looked out of place.
"The fact he has been able to build such a strong relationship with the team around him has been key, and that has been reflected in how hard he has worked throughout the year to take everything onboard and to constantly improve.
"To know he will remain as part of the line-up is fantastic for all parties because of the consistency it provides, and I'm confident there are some good results to come over the next two seasons."
Robert Forrester, Chief Executive of Bristol Street Motors and Macklin Motors, said:
"We've thoroughly enjoyed watching Ronan grow as a driver during his debut season in the BTCC and he been a fantastic ambassador for the Macklin Motors brand, both on and off the track over the course of the year.
"We look forward to continuing to work with Ronan into 2024 and beyond, and are confident there will be plenty of opportunities for us to celebrate success together in the seasons to come."