Macklin Motors Ford Dunfermline Sales Manager Honoured For Outstanding Results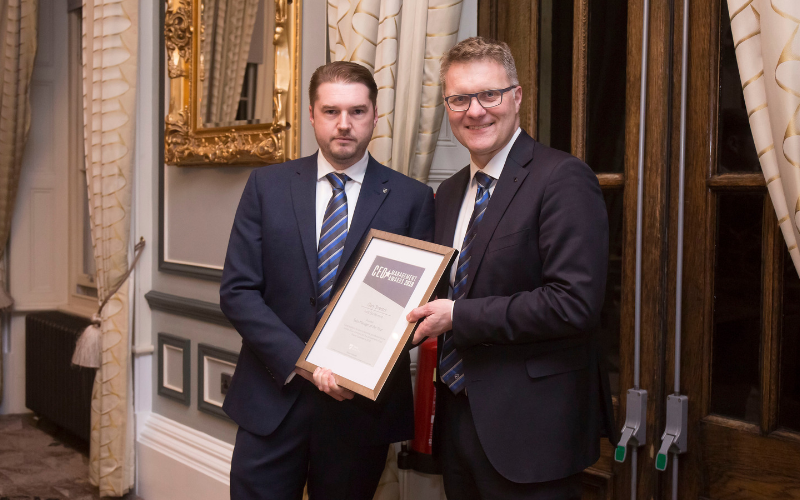 A manager at Macklin Motors Ford Dunfermline has been honoured at a national awards ceremony.
Gary Streeter was named 'Sales Manager of the Year' at Vertu Motors' CEO Awards dinner, hosted by the Group's CEO Robert Forrester at Oulton Hall in Leeds.
Gary picked up the accolade after working hard to improve used car performance. In preparation for a potential position as general manager, Gary graduated from the Vertu general manager development programme in November 2018, designed to familiarise participants with all aspects of the business, through operational and Dale Carnegie leadership training modules.
Originally from Northern Ireland but now living in Dunfermline, Gary began his career in the sector 17 years ago as a trainee sales executive. He joined Macklin Motors Ford Dunfermline in November 2015.
The annual CEO Awards recognise outstanding performances of colleagues working across the Group's 125 outlets each year.
Robert Forrester said: "Gary has developed his department and improved the used car performance at an impressive pace.
"He has installed strong disciplines that ensure customers get the right car, at the right price and have a fantastic experience. Gary does the basics brilliantly. All in all, this is a terrific performance and Gary is a very worthy winner. Well done Gary!"
Gary Streeter said: "In my capacity as sales manager at Macklin Motors Dunfermline Ford, I have utilised every bit of training and support which Vertu Motors has provided or offered to me. The Group is heavily invested in its colleagues and because of that, I have been able to make a difference to the dealership. I am thrilled to have won this award."