Mustangs Get The Backing Of Bristol Street Motors Ford Orpington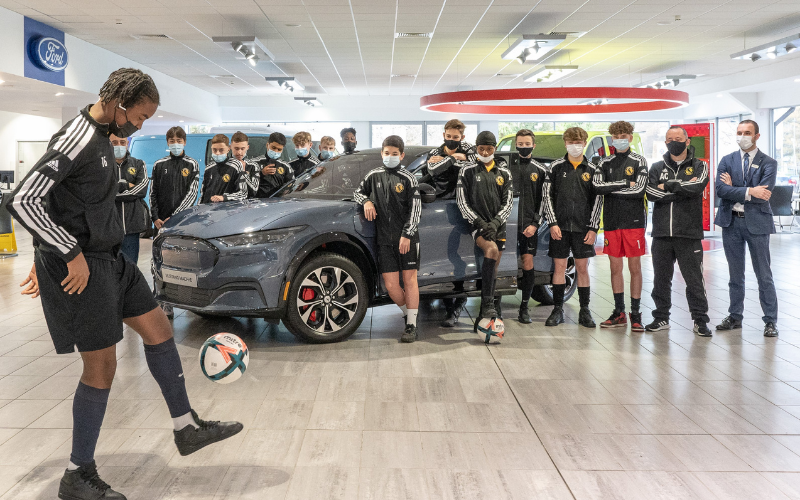 A team of talented young footballers with the same name as an iconic Ford car have received the backing of the manufacturer's local dealership.
Bristol Street Motors Ford Orpington has renewed its support for Orpington FC Under 15s squad – nicknamed the Mustangs – having first forged connections with the team five years ago.
As part of the partnership, the entire squad and management team have been supplied with full kit, emblazoned with the dealership's branding.
The U15 Mustangs play in the Selkent U15 League and the club, founded in 1939, has teams from U7s through to men's and women's teams.
Orpington Football Club is an FA Charter Standard Community club, based at Goddington Park, with more than 600 players in various teams for boys, girls, men, women and people with special educational needs.
Craig Wilton, Sales Manager at Bristol Street Motors Ford Orpington, said: "Across the wider group that Bristol Street Motors falls part of, Vertu Motors plc, we have strong footballing connections nationally. We sponsor the Professional Football Association Fans' Player of the Month Award and have connections with professional clubs across the UK.
"We're very pleased to be supporting Orpington Mustangs for another season. It's been great to see the team grow and progress over the years; we love being part of their journey.
"The team is actually named after the Ford Mustang. One of the members involved in running the club was in our dealership not long after the new model was launched in the UK and our partnership has developed since then!"
Gary Young, U15 Mustangs Team Secretary at Orpington FC, said: "The support we have received from Bristol Street Motors Ford Orpington over the years has been very much appreciated.
"The cost of kitting out a full team can be very expensive and it's a lot to ask some parents. Having everyone in one uniform really helps cement the feeling of being a team. Thank you, Bristol Street Motors Ford Orpington!"