Peterlee Hyundai satisfaction award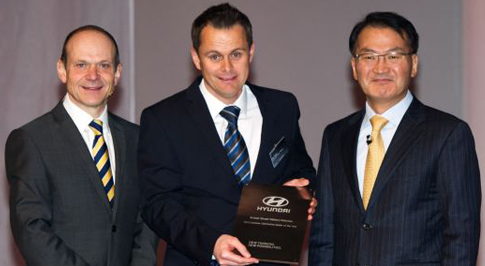 A North East Bristol Street Motors dealership has been named Hyundai's number one UK outlet for customer service after scoring an unprecedented 100 per cent in a customer satisfaction survey.
Hyundai Peterlee, which is part of Bristol Street Motors, has won the Korean car brand's Dealership of the Year for Customer Satisfaction after every customer surveyed said they would "definitely" recommend both the sales and Aftersales departments to a friend.
The award was presented to the dealership's General Manager Billy Taylor, by Tony Whitehorn, President and CEO of Hyundai Motor UK, and Byung Kwon Rhim (cor), the President and CEO of Hyundai Motor Europe. The event was held in Liverpool at the ACC Conference Centre.
As well as being the top-performing Hyundai outlet in the UK for customer service, the Bristol Street Motors dealership also scored a combined satisfaction score of 99 per cent across sales facilities, staff, test driving, purchase and handover, as well as a 97.6 per cent average score across servicing facilities, staff, time, quality and value.
The ratings are based on the results of a questionnaire sent to all customers from all Hyundai dealerships in the UK.
General Manager Billy Taylor said: "This award means a lot to us. Bristol Street Motors only opened this dealership two years ago, so it's a real testament to the hard work and exemplary standards of all of our colleagues here.
"Customer service is paramount to us and you can't get better than 100 per cent. I am absolutely thrilled with this award, and I'm very proud that we're the number one Hyundai dealership for customer service in the UK.
"We are all delighted with the award here at Peterlee Hyundai, and are absolutely determined to keep building on this success."