Steve Gould wins 'Company Person of the Year' Award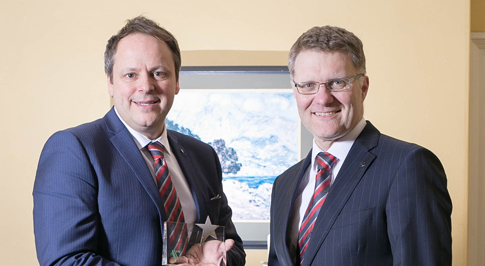 The Nissan and Renault divisional director for one of the UK's largest motor retailers has been recognised for his outstanding performance.

Steve Gould, the Nissan and Renault divisional director for Vertu Motors Plc, was named 'Company Person of the Year' at the Group's annual management awards held at the Eslington Villa hotel in Gateshead.

Steve has been recognised as leading a year-on-year improvement in the Bristol Street Motors Nissan and Renault division since joining in 2012. Four years on, he now leads a division that boasts the best used car performance of any manufacturer across the Group.

Under Steve's leadership there has been a dramatic increase in customer satisfaction across both the sales and service departments. This has coincided with a marked improvement in colleague satisfaction scores, particularly in Aftersales.

Robert Forrester, chief executive of Vertu Motors Plc said: "One of our core values as a business is to recognise and celebrate excellent performance and our annual management awards are a chance to do just that.

"Every year that we hold the awards it becomes harder and harder to decide on a winner, everyone who is nominated has performed exceptionally well over the year and is at the very top of their game.

"It gives me a great sense of pride to know we have so many amazing individuals on board and fills me with great confidence as we continue to build the business in 2016.