Technician Speeds Away With Sponsorship From Hereford Audi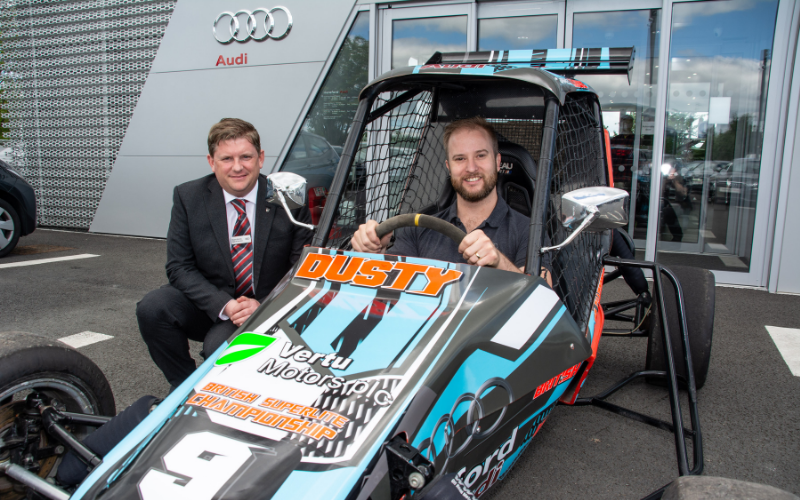 Hereford Audi is supporting the racing career of one of its technicians with a sponsorship package that will help him compete in the British Superlite Championship.
Thirty-two-year-old James Lewis, who has worked at the dealership for 15 years, started racing at an early age, competing at a high level in 'Autograss' with his Dad and winning the UK Championship.
In 2018 James bought a S900 class British Superlite car and competed for the first time in the British Superlite Championship. His ambition for the new season is to be fighting for the top three grid positions and continue to challenge the more experienced drivers.
The sponsorship will cover the cost of tyres and entry fees, allowing James to concentrate on his racing performance.
James said: "I am so grateful to Stuart for agreeing to support me with my racing and hope I can do him and the whole team at Hereford Audi proud. I am privileged to work for such a great company who are with me all the way in this exciting British Superlite season. The support of my colleagues, and my parents who have been behind me from the beginning, is allowing me to compete and progress.
"The first year in the British Superlite Championship was a hard learning curve. The transition from Autograss in a front wheel car and racing on dirt, to now racing on tarmac circuits with a real wheel drive car has been a huge difference but I'm now getting used to it and hoping to be really competitive this season. My aim is to consistently achieve top three grid positions and I am sure that I am in the best shape to achieve this."
Stuart Morley, general manager at Hereford Audi, said: "We're all proud of James and his exploits and follow his racing career closely.
"I am delighted that we have the opportunity to partner with him and support his endeavours during the new season."