Tree Planting Initiative Is Born To Mark Launch Of New Electric Car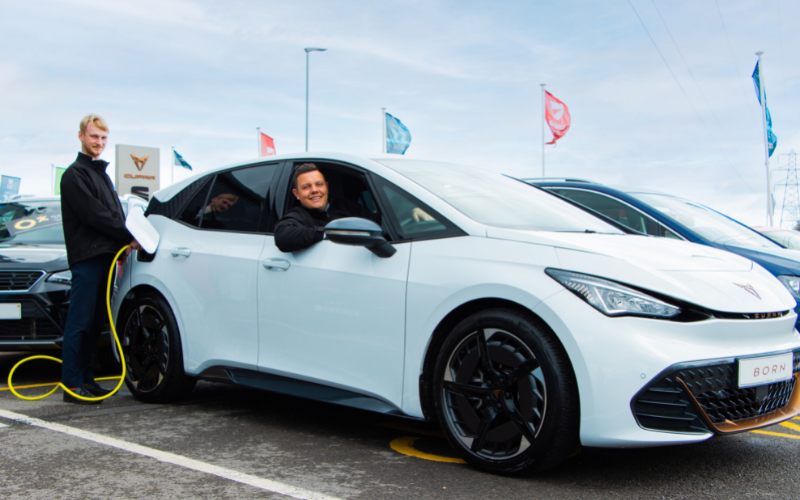 Bristol Street Motors Darlington CUPRA is to help make the town greener in more ways than one to celebrate the UK launch of a new electric car.
In conjunction with motor manufacturer CUPRA and the charity Trees for Cities, the McMullen Road car dealership will plant a tree for every test drive of a Born electric vehicle (EV) between April 14th and 26th.
The Born is CUPRA's first all-electric car, which will have a maximum range of more than 260 miles.
Packed with the latest innovative technologies to add enhanced comfort and safety to every journey, it has been named Best Small Electric Car of the Year 2022 by WhatCar?
This includes rear traffic alert, which warns if a potential hazard approaches when reversing out of a parking space; adaptive cruise control, which not only keeps a car at the driver's preferred speed but responds according to the surrounding traffic; and high beam assist that, when travelling at night or in bad weather, automatically will change the lights between full or dipped.
Simon Horabin, Bristol Street Motors CUPRA Franchise Director, said: "Electric vehicles are becoming more and more popular with our customers, and we're delighted to be offering them the opportunity to buy a new Born at our CUPRA dealerships, including Darlington. I know they will be very impressed."
"The tree-planting initiative is an extremely appropriate way to mark the launch of the award-winning CUPRA Born, as most know, trees absorb carbon as they grow, which helps slow the rate of global warming."
The Born was recognised by WhatCar? for its impressive handling characteristics, high quality interior and dynamic powertrain.
Steve Huntingford, Editor at WhatCar?, said: "Choosing a CUPRA typically means a big focus on driver appeal, and the Born absolutely delivers, because it feels more eager to turn into bends than rivals.
"Despite this, though, the ride is far from harsh and road noise is kept to a minimum, while the interior is smartly finished and impressively spacious.
"So, the Born proves that turning your back on petrol doesn't mean you have to sacrifice fun, but it's also a fantastic all-rounder."
CUPRA was introduced as a brand by Volkswagen Group four years ago and in 2021 it tripled sales with 80,000 vehicles delivered.