Valeter to Manager: Darren Simpson joins Renault Bradford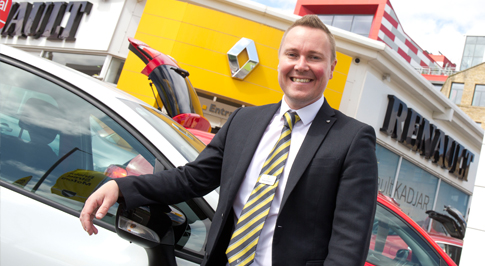 Bristol Street Motors Renault and Dacia Bradford has appointed a new general manager with more than two decades of experience in the motor industry.
Darren Simpson entered the motor retail industry after getting a taste for it aged just 16, when he worked as a valeter during the summer holidays for a small family-run dealership. 21 years later, he is responsible for a 40-strong team at the Thornton Road dealership.
After starting out as a part-time valeter, Darren has spent time working in nearly every aspect of the motor trade having undertaken roles in parts, service and sales, before progressing to dealership management.
A believer in leading by example, he recently climbed Ben Nevis with his wife and children to raise £500 for the Life for a Kid leukaemia charity after being inspired by his friend's four-year old daughter.
Darren said: "I'm very pleased to be joining Bristol Street Motors Renault and Dacia Bradford. It has a fantastic reputation and I'm really excited to be taking the helm. Even though it is a managerial role, it is still a customer-facing role, which I absolutely love.
"I love working with people and getting the very best from them. My ambition going forward is to keep the dealership on track and work with my team to develop and hone their skills, whilst continuing the exemplary customer service already offered"