Vertu Motors Recognises Long Serving Colleague - Apprentice To Regional Manager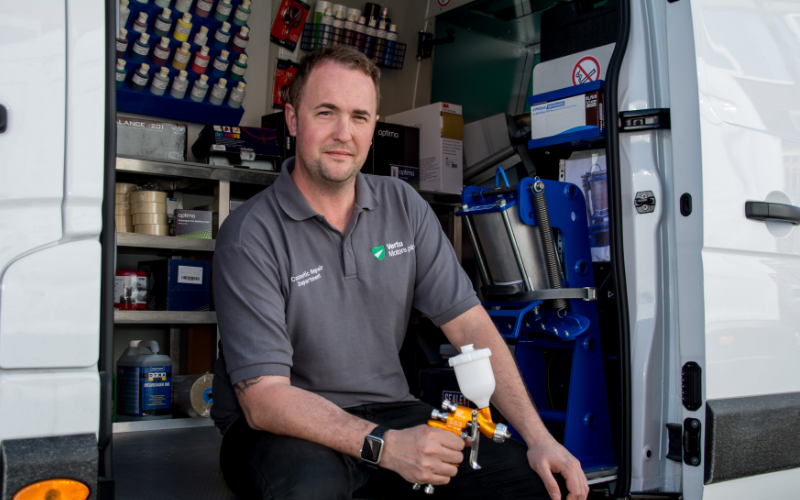 Vertu Motors has recognised the long-service of a former apprentice who, twenty years after beginning with the company, has progressed to a regional manager position.
Dominic Evans began his career journey as an apprentice painter at the Bristol Street Motors bodyshop in Stafford.
As an apprentice he learned the skills that enabled him to take on his first managerial role, at the young age of 32.
Just five years later Dominic is a regional manager for Vertu Cosmetic Repairs. In this role he is responsible for twenty SMART repair technicians who work across more than 40 dealerships. The skilled team supports the sales function by ensuring all used cars are cosmetically prepared to the highest possible standard, checking and repairing anything non-mechanical on the vehicles.
Despite only being in its second year of operation Vertu Cosmetic Repairs has doubled the number of technicians employed to 60, with ambitious plans to further grown the division over the next 12 months.
Dominic is based in Stafford, where he lives, but works across the Midlands and North West. He spends time with his young family when not working, and occasionally escapes to ride his mountain bike in the local countryside
Dominic said: "I am incredibly lucky to work for a company that offers its colleagues such fantastic opportunities for career progression.
"The support and trust that has been shown to me has given me the confidence to take on new challenges at a relatively young age and I am thoroughly enjoying working with my great team of talented professionals and with the wider team across the division
"The 20 years have flown by since I started my apprenticeship and I've worked with some amazing people along the way. There are some great possibilities for the future and I'm looking forward to the next 20 years at Vertu Motors!"

Neil Hall, group bodyshop manager, said: "Dominic epitomises the values of Vertu Motors and he has grasped the opportunities given to him and is a hugely valued colleague.

"His advancement through the business has been well-deserved and I am confident that will continue as the division grows."