Vertu Motors Win National Awards For Second Year Running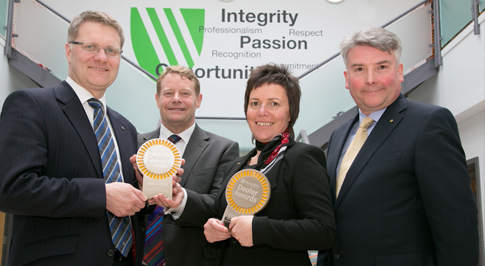 One of the UK's largest motor retailers, Vertu Motors PLC, has been recognised for excellence in the Motability sector.
The Group, which has more than 29,000 Motability customers across its 126 dealerships in the UK, including Bristol Street Motors, Macklin Motors, Vertu Honda and Vertu Volkswagen, picked up the highly coveted National Dealer Group of the Year for the second year running at Motability's annual Dealer Awards.
The Motability Dealer Awards programme is designed to reward best practice and ensure all Motability customers receive exemplary customer service across the nationwide car dealer network. The Awards are judged on how a dealer delivers the Scheme to customers, and are assessed by customer feedback and reviews of Motability performance. The Motability Dealer Awards programme includes regional and quarterly prizes, with all quarterly winners then automatically entered into the nominations for the annual award prizes.
The Group also won the Website of the Year award for Bristol Street Motors' Motability website, which allows customers to explore the huge variety of Motability vehicles and adaptations and search for dealerships nearby.
Vertu's successful Bristol Street Motors Vauxhall in Newcastle took home two accolades of its own. The dealership received a commendation for consistently delivering excellent customer service to Motability customers, and its Motability Specialist, Gavin Gray, has received the Outstanding Contribution Award.
Robert Forrester, CEO of Vertu Motors PLC, said: "It gives us great pleasure to be able to serve Motabilty Customers.
"We know that Motability can transform the lives of those in society who need help with mobility and we're proud to serve them and deliver to them the outstanding customer service that Vertu Motors' franchises are renowned for. Each of our dealerships has Motability sales specialists and trained service colleagues, who can help Motability customers with all their motoring needs and provide real value to clients.
"We're also proud to have received the Website of the Year award. It's a great accolade for the Group and shows that the innovations we have undertaken within our digital space and throughout our digital businesses have been worth it.
"I would like to congratulate our highly successful Bristol Street Motors Vauxhall Newcastle dealership on another year of success. The team were recognised for their continued outstanding customer service, while Gavin Gray, who personally received the Outstanding Contribution Award, richly deserved his accolade.
"The Motability Scheme is renowned for its high standards and here at Vertu Motors PLC we are honoured to be recognised for our dedication to working in partnership with the Scheme over the past year. We look forward to continuing our award winning approach to business and customer service."
Peter Wilson, General Manager Dealer Relations at Motability Operations, said: "We are really pleased to be able to reward our outstanding dealers with another round of Motability Dealer Awards, recognising the great service they provided in 2015. The dealer network is the 'face' of the Motability Scheme and the Awards are a great way for us to thank them for providing consistently positive customer service, highlighting those who are doing it well and encouraging others to do the same. Congratulations to Vertu Motors' network of dealerships who go above and beyond for our customers."
The Motability scheme enables disabled people to exchange their Higher Rate Motability Component of Disability Living Allowance, their Enhanced Rate of the Mobility Component of Personal Independence Payment (PIP), their War Pensioners Mobility Supplement (WPMS) or their Armed Forces Independence Payment (AFIP) for a new car, scooter or powered wheelchair. Since it was set up in 1978, Motability has helped more than 3 million people get mobile with a brand new vehicle. Many of the vehicles are available on Motability from Nil advance payment.