York City Scores Bristol Street Motors Deal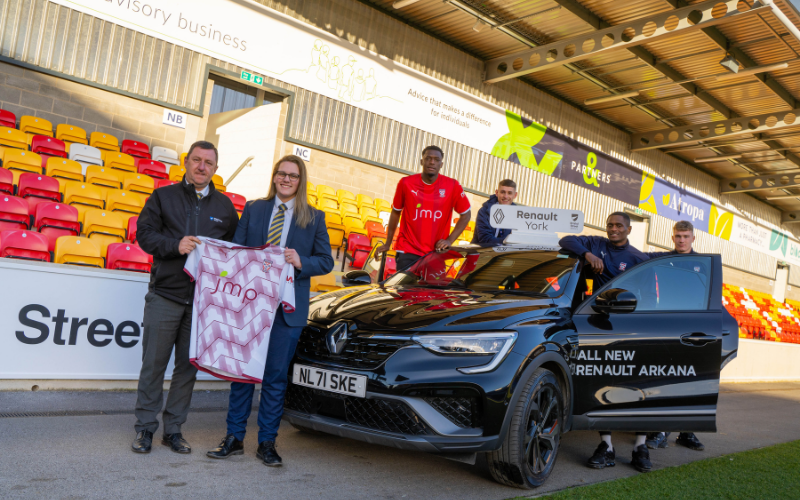 Bristol Street Motors Renault and Bristol Street Motors Dacia York have signed a sponsorship deal with York City Football Club, as the new dealership site looks to forge community links.
The Clifton Moor Gate location, which houses both Renault and Dacia brands under one roof, opened its doors in October 2021, creating 15 jobs as part of a £300,000 investment by Bristol Street Motors.
The deal with York City Football Club sees Bristol Street Motors Renault and Dacia York named as an Official Club Partner, with the dealership participating in matchday initiatives and placing advertising boards around the LNER Community Stadium.
Bristol Street Motors Renault and Dacia York will also support charity and community initiatives from the club, throughout the term of its partnership.
The Bristol Street Motors brand is committed to supporting sport at all levels, sponsoring many junior and community teams across the country. This new deal aims to bolster the brand's continued belief in the power of sport to connect with local communities, coming not long after Bristol Street Motors announced their partnership with Derby County Football Club.
Terry Brown, Business Development Manager at Bristol Street Motors Renault and Dacia York, said: "We're delighted to begin our partnership with York City and look forward to working hand-in-hand on community initiatives over the coming months.
"We see this as a great opportunity to reignite the Renault and Dacia brands within York and the surrounding areas after a 23-year absence.
"The opening earlier this year of the new stadium makes this a great time to promote the brands within the City, given the support and interest it has generated. We look forward to a long and fruitful relationship with the club, helping us both achieve our goals."
Liam McGuinness, Commercial Manager at York City Football Club, added: "We are delighted that Bristol Street Motors has chosen to partner with the football club.
"Our thanks to Terry and everyone at Bristol Street Motors for their support. We're looking forward to developing the relationship for many seasons to come."