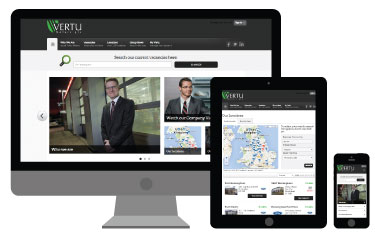 My Vertu
Welcome to My Vertu, a dedicated area of our site designed to assist you, in your quest to find your perfect job.
You will see from our website we are quickly becoming one of the fastest growing companies in the UK. We recognise that for continued success we need to ensure we employ the very best people in the industry. Our prerequisites are drive, character, attitude, energy and talent and our selection strategy focuses on all of these behaviours. In return we pride ourselves in creating a workplace that provides opportunities and recognition for all our employees.
Subscribe & Manage
Jobs by Email

If you have Vertuís prerequisites and you're looking for your next career move and are keen to join us here at Vertu, register for your vacancy email alerts. We will use your job requirements and preferences to alert you when a suitable position is available.

Save
Jobs

When you're browsing and you spot a job you may be interested in but you don't have the time to apply there and then, save it for later and when you have more time you will be able to log in and complete the appiclation at your leisure.

Save
Time

Once you have applied for a job you will be able to manage all of the information entered within My Vertu. You can update personal information at any time and if you see another job you'd like to apply for another job you won't have to enter the same data twice.