All-Women Professional Race Team Gives Schoolchildren A Taste Of The Track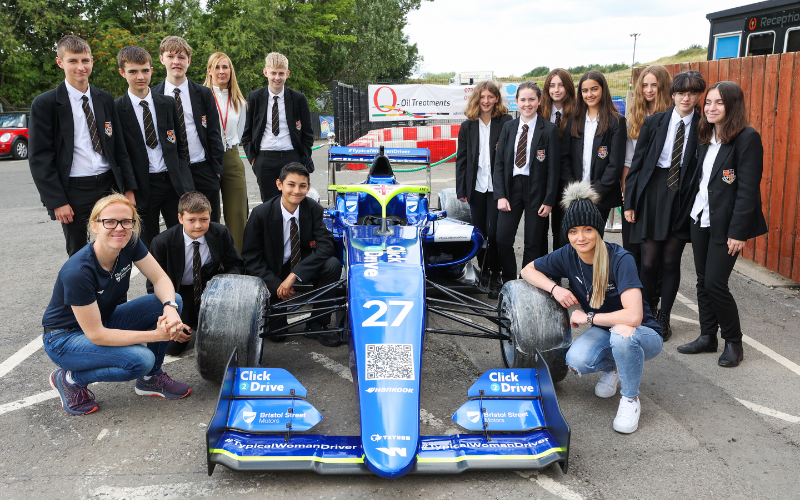 Professional drivers from an all-women race team have been waving the chequered flag for careers in the motor industry, as they helped to host an event to inform and inspire North East schoolchildren.
Click2Drive Bristol Street Motors Racing W Series Team drivers, Alice Powell and Jessica Hawkins pulled into Teesside Autodrome to speak to year 10 students from Durham Johnston Comprehensive school. They spoke passionately about the various opportunities in the world of motorsport and the roads that led to their own successes.
The W Series drivers were joined by Faye Young and Lesley Thornburn, marketing specialists who work for brands within Vertu Motors plc, including Bristol Street Motors. Both highlighted the multitude of careers available within the wider motor sector, before setting students away with a YouTube-themed marketing challenge.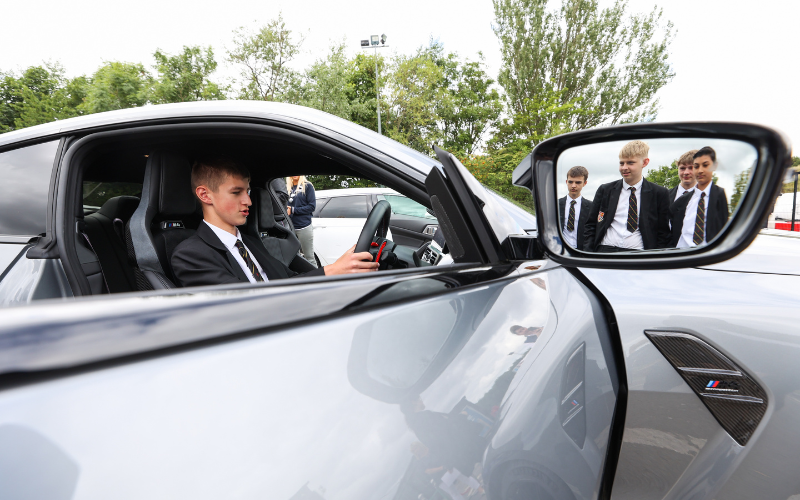 Pupils undertaking their Youtube challenge.
Students also enjoyed a walk-through of one of the W Series racing cars, in addition to each having a highspeed lap with a professional driver in an Audi R8.
Alice and Jessica are teammates that make up the Click2Drive Bristol Street Motors Racing team, which competes in W Series, an all-women competition that races alongside the Formula 1 calendar across selected weekends. W Series carries the key intention to increase diversity and representation in motorsport, with their resounding message: 'If you can see it, you can be it'.
Alice Powell, Click2Drive Bristol Street Motors Racing W Series Team driver, said: "It's so important to make sure young people - like those we spoke to today - know about some of the different career opportunities that are available.
"At their age – 14 or 15 – they are about to start making decisions and heading down paths that may shape their entire lives, and it would be amazing if today inspires even just one person to pursue their passion for cars and motorsport, and make a career from it.
"It may never have occurred to them that they could be trackside at some of the world's most prestigious race circuits in a wide variety of roles, all of which the partnership between W Series and Bristol Street Motors does so much to highlight and promote.
"It's poignant that I am at a go-kart track with Bristol Street Motors, talking to pupils about careers. I started my racing journey in karting, aged just eight years old. Bristol Street Motors has supported me since 2008, when they were one of my first big sponsors in Ginetta Juniors. They have continued to help me throughout my career."
Jennifer Cummings, teacher at Durham Johnston Comprehensive School, said: "It's vital that our students get the opportunity to see and speak to those who have gone on to have great careers across a range of different industries, like the motor industry. We want to widen their horizons and help them understand the various paths open and available to them.
"We really appreciate Bristol Street Motors taking the time to invite us to the track and giving the students such a memorable experience. We're sure it's one they'll not forget!"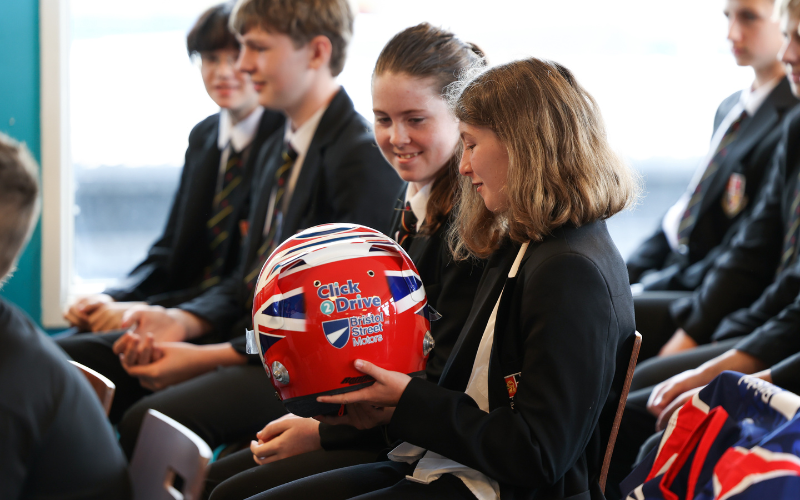 Pupils looking at Click2Drive Bristol Street Motors professional helmet.
Tom Cummings, Creative Director of Bristol Street Motors, said: "Jessica, Alice, Lesley and Faye are fantastic ambassadors for Bristol Street Motors, motorsport and motor retail. They demonstrate the breadth of opportunity within the motoring world, and I expect will have set some young minds racing with opportunity today.
"A huge focus for Bristol Street Motors is the development of our colleagues and attracting that next generation of talent. There are many different routes into a career with us, from traditional apprenticeships and traineeships, to now degree level apprenticeships.
"There are so many options available for people who are interested in a career that incorporates vehicles. From sales to technicians, marketing, HR, and even getting behind the wheel of a Click2Drive Bristol Street Motors racing car!
"There is an opportunity in every area of our business for anyone with the drive to succeed."
The see what's available, visit https://www.vertucareers.com/