Award-winning manager returns to Farnell Land Rover Guiseley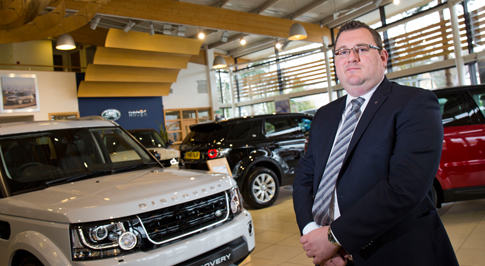 A manager who spent nearly a decade at Farnell Land Rover has returned to take the helm at the company's Guiseley retailer.
Craig Roberts has been welcomed back to Farnell Land Rover Guiseley, part of Vertu Motors PLC, having previously worked his way up from sales executive to head of business over an eight-year period.
Under Craig's leadership, Farnell Land Rover Leeds won Dealer of the Year in both 2012 and 2013.
Three years later, after taking on the role of head of business at a BMW & Mini retailer, the Leeds local has returned to Farnell Land Rover as head of business at the Guiseley retailer.
Craig re-joins the team at an exciting time for Farnell Land Rover as Vertu recently announced £7.5m investment in the construction of a brand new dealership in Leeds to accommodate the company's growing team.
The end of this year will also see Vertu make a seven-figure investment in a new dealership for Farnell Land Rover Guiseley, with doors due to open in mid-2017.
Craig said:"I'm delighted to be back in the heart of Yorkshire's golden triangle. Born and bred in Leeds, I couldn't think of anything better than to lead the team at Farnell Land Rover Guiseley and continue the team's hard work.
"Thanks to its welcoming, family-friendly atmosphere, Farnell Land Rover Guiseley has established itself as an important part of the local community, serving many loyal customers across the region.
"With my 10 years' experience in the industry and wide knowledge of the area, I feel I am best placed to continue strengthening Farnell Land Rover's position in Yorkshire."
Jatinder Aujla, group operations director at Farnell Land Rover, commented: "It's great to welcome Craig back on board. He has proven himself as an outstanding manager with thorough knowledge and passion for the Land Rover brand.
"Craig's track record working across all the Farnell dealerships in Yorkshire speaks for itself. He knows the business and the sector exceptionally well and I'm sure he will be an invaluable asset to Farnell Land Rover as we continue to develop and grow."