Bristol Street Motors Bradford Motor Professional Recognised With National Award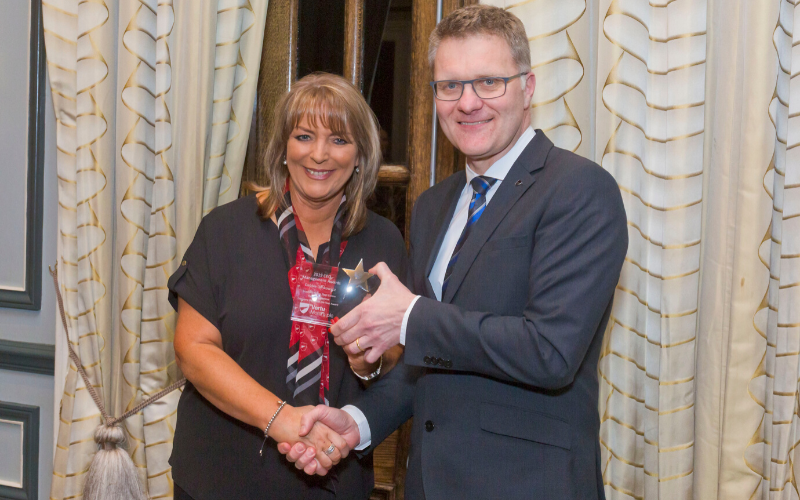 Debbie Dankowycz, general manager at Bristol Street Motors Bradford Nissan and Renault Fleet Centre, has received a national award for her performance.
Debbie was named 'Tom Fairgrieve Company Person of the Year' at Vertu Motors plc's CEO Awards. The awards recognise the company's top-performing colleagues from each area of the business, who have delivered exceptional performances and produced outstanding results.
She has delivered three straight years of extraordinary performance. Her citation stated that 'Debbie is almost ambassadorial in her approach – one quality that she possesses is humility – she never criticises, condemns or complains and supports her team and the wider business very well. This is an all-round exceptional that has been well-earned over many years.'
In 1990, Debbie took part in the Miss Telegraph & Argus competition and was awarded the crown, becoming an ambassador for the area and spending time promoting all that is good about Bradford and the wider district.
Vertu Motors chief executive, Robert Forrester, hosted the awards at the 18th century mansion, Oulton Hall in Leeds, as the motor retailer rewarded the efforts of its colleagues.
Robert reviews each individual nomination before personally selecting the top performers in each area of the business and deciding who wins one of the nine different category awards.
Robert Forrester said: "Debbie does everything and more that the company expects. There are never any customer issues and we have great colleague stability under her management. She has an unquestioning loyalty to the company and its values and its goals and is a very worthy winner of this accolade."
Debbie said: "Throughout my career with Vertu Motors, I have tried to utilise the training and support which has been available to me. I am passionate about my role, and really want to see colleagues thrive and customers experience the very best service.
"To be recognised for my contributions to the company is fantastic and very humbling. A manager is only as good as their team and I'm very grateful for their support and hard work.
"The support and commitment I get from my area team has also been a contributing factor to me winning the award. Vertu Motors is switched on to the market and can make quick decisions."