Bristol Street Motors in Derby marks Dacia sales milestone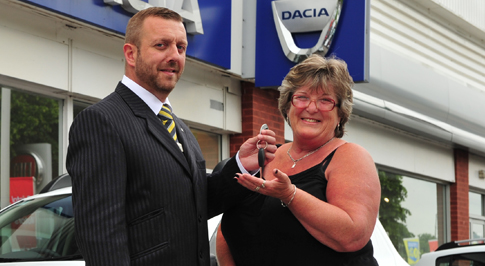 Bristol Street Motors Dacia Derby has sold the 25,000th Dacia car in the UK.

Alison Beirne, a customer service executive, took delivery of her Sandero Stepway Laureate TCe 90 at the dealership, based on Sir Frank Whittle Road.

Sales Manager, Andrew Peacock handed over the keys to Mrs Beirne who was also surprised with a celebratory gift from Dacia of one year's local gym membership, so that she can enjoy some well-deserved R&R, on top of her Dacia adventures, in her imminent retirement.

In less than 18 months, Dacia, the darling of the European car market, has blazed a trail in the UK. And now, only a few months on from hitting 10,000 sales, it's already popping a few more corks, of high quality, but affordable bubbles, naturally, after handing over its 25,000th car.

The "shockingly affordable" brand proudly makes an enemy of the unnecessary, offering high-quality, spacious and well-built cars at affordable prices.
Clearly, after racking up an awe-inspiring 15,000 extra sales in just seven months, it's a winning combination.

Having splashed out a grand total of £9,995 on her gleaming new white Sandero Stepway Laureate TCe 90, Mrs Beirne saved herself thousands of pounds compared to rival cars.

She said: "I had a 12 year-old car which was reaching the end of its life and a friend of mine casually said why I didn't just pop into Bristol Street Motors to check out the Dacia range. As soon as I saw the Sandero Stepway in the showroom, I knew it'd be just perfect for me. It looks good, the higher seating position is great and it's got some good features, including the touch screen sat nav. I know Dacias have great reliability, so it won't let me down either. The hassle-free buying process was the icing on the cake."

Sales manager Andrew Peacock said: ""We are really excited to be offering customers the fantastic range from Dacia. The different models have received excellent reviews which all make reference to the fantastic price-tag attached to such an attractive design and quality vehicle.

"Colleagues on-site are able to advise customers on the full range from Dacia in order to recommend the best model to suit their individual needs and Mrs Bernie was absolutely delighted with her purchase."