Bristol Street Motors renews support for motorsport driver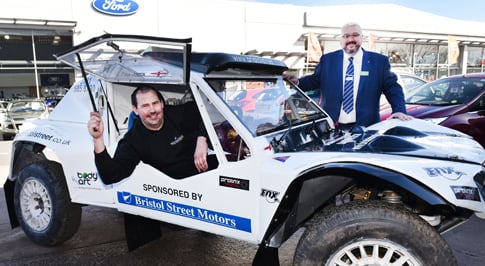 A Ford dealership in Worcester has continued its backing of a talented workshop technician and motorsport enthusiast as he sets his sights on a national championship.
Paul Harris will once again compete in the Britpart MSA British Cross Country Championship (BCCC) – the highest level of the motorsport - after taking part in the competition for the second time last season, where he finished 11th overall and a third in his class.
Bristol Street Motors Ford, which is part of Vertu Motors PLC, has pledged the cost of Paul's entry fee into the competition for the fourth consecutive year.
Paul, who won back-to-back victories in the trophy class in 2012 and 2013, was delighted to receive renewed support from Bristol Street Motors, he said: "I am hoping for a great season this year.
"I have just completed rebuilding and repainting the car for the forthcoming season, having made some modifications to the suspension with the hope of producing faster times and climbing higher up the leader board.
"The support I receive from Bristol Street Motors makes it possible for me to race against the best drivers in the country,
"It does give me great pleasure to showcase the Bristol Street Motors name on my car and fly the flag for my dealership."
Stuart Lamb, general manager at Bristol Street Motors Ford Worcester, added: "The team at Bristol Street Motors is very excited for Paul and the season ahead, which will hopefully be another successful year for him.
"Paul is a hardworking and passionate member of the team, who does so much for his customers, so we were more than happy to continue supporting him into the forthcoming season."
The Britpart MSA British Cross Country Championship is the UK's premier off-road championship. In 2016 the championship will run over six rounds with each event taking place on forestry or MoD land.