Bristol Street Motors Revs Up With W Series TV Sponsorship On Channel 4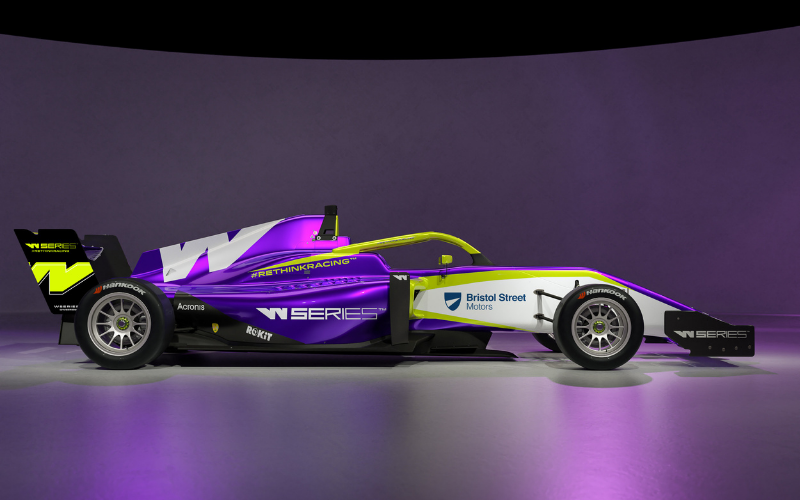 Bristol Street Motors is extending its support for women's sport with sponsorship of Channel 4's coverage of the W Series motorsport championship, launching on Saturday 17th July from 1pm.
W Series is a free-to-enter championship, launched in October 2018, that provides equal opportunities for women and eliminates the financial barriers that have historically prevented them from progressing to the upper echelons of motorsport.
W Series drivers are selected purely on their ability and the series' cars are mechanically identical which means that W Series races and championships will be won by the most talented drivers, rather than those with the wealthiest backers.
The more high-profile female role models it can create, the more W Series believes it will inspire young girls to go karting, bringing more females into the grassroots of the sport.
This year W Series is racing alongside Formula 1 at eight Grand Prix weekends, including Silverstone. Currently the top three drivers in the championship standing are British.
Bristol Street Motors sponsored the first PFA Fans' Women Player of the Month Awards and the senior management team is passionate about addressing gender imbalance across the motor retail sector.
Robert Forrester, chief executive of Bristol Street Motors, said:
"I am delighted that Bristol Street Motors has this opportunity to support W Series. The W Series philosophy is completely aligned to my own belief that there needs to be equal opportunities for women to work in the motor sector, whether driving a racing car, as a technician or sales executive. Anything that encourages this is to be applauded and I am very much looking forward to watching some very talented drivers and exciting races."
Catherine Bond Muir, Chief Executive Officer, W Series said:
"Like W Series, the team at Bristol Street Motors is committed to changing the face of motoring and motorsport by creating more opportunities for women in what have traditionally been male-dominated industries. This weekend, W Series will support Formula 1's British Grand Prix with both races live and free-to-air on Channel 4, meaning fans will be able to watch the world's best male and female racing drivers on the same platform. I am delighted that Bristol Street Motors will join us as a sponsor for what promises to be an unforgettable weekend, with six British drivers on the W Series grid for their home race at Silverstone – The Home of British Motor Racing – and a capacity crowd to cheer them on."
Rupinder Downie, Brand Partnerships Leader, Channel 4 said:
"We're delighted that Bristol Street Motors are joining Channel 4 in our support of women's motor sport. Channel 4 has a strong history in championing voices which all too often go unheard and women's sport is finally beginning to receive the recognition it deserves and it's fantastic that Bristol Street Motors are backing our coverage of W Series."