Bristol Street Motors Steps In To Help Save Daniel Lloyd's BTCC Season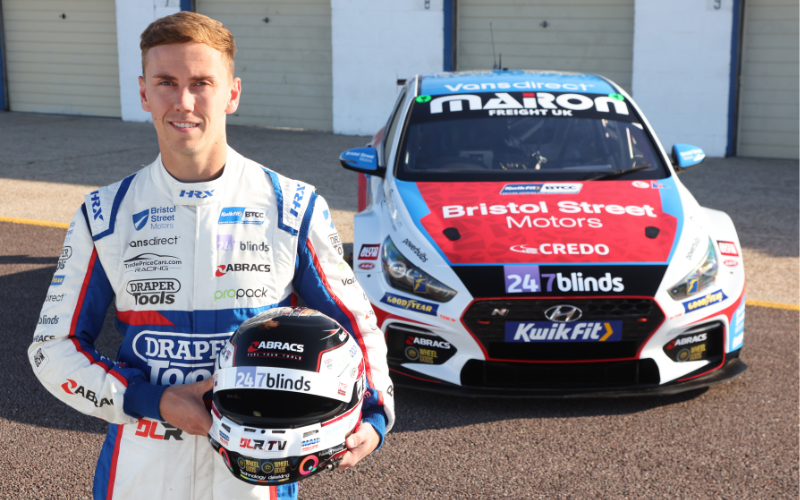 Bristol Street Motors has stepped in to help Daniel Lloyd's bid to compete in the final two races of the Kwik Fit British Touring Car Championship season, after a crash at Oulton Park left his participation in doubt.
The motor retailer brand – which has strong roots in motorsport and sponsors several drivers across a multitude of disciplines beyond the BTCC, including a W Series racing team – has confirmed a deal with Daniel ahead of the Thruxton meeting this weekend, which was expected to be Lloyd's last appearance of the campaign.
Lloyd's challenge was thrown into doubt after his Bristol Street Motors with EXCELR8 TradePriceCars.com Hyundai i30 Fastback N was involved in a 43G accident during the final race of the weekend at Oulton Park back in June.
After making heavy contact with the barriers, Daniel's car was then collected by the BMW of Colin Turkington and the Vauxhall of Michael Crees - leaving the Hyundai extensively damaged and Daniel lucky to escape serious injury.
The six-figure cost of repairing Lloyd's vehicle so he could participate in the Croft round just two weeks later – where he astonishingly won two races – cast doubt over whether he would be able to complete the season, with the 30-year-old having to work hard over the summer break to try and bring additional partners onboard.
Even though a number of new sponsors stepped up to the plate, more than £50,000 was still required to not only settle the remainder of the repair bill, but also to ensure he was able to race in the final two meetings of the season at Silverstone and Brands Hatch.
A fresh push for support saw a number of fans purchase special packages launched by Daniel to help generate the required funds, and has now led to Bristol Street Motors agreeing a deal that will see it become a primary backer of the #123 Hyundai for the remainder of the season.
Whilst that support will help Daniel in his quest to complete the season on track - and will aid Bristol Street Motors with EXCELR8 TradePriceCars.com as it bids to secure the BTCC Teams' Trophy - further investment is still required to fully cover the costs from the Oulton Park incident.
Daniel Lloyd, Bristol Street Motors with EXCELR8 TradePriceCars.com Driver, said:
"The idea of not finishing a season after working so hard to get to where I am, and after the positive results we have had, was just heart-breaking. I am absolutely over the moon to be in a position where I am to compete in the final two rounds of the season. I'm incredibly grateful to Bristol Street Motors for having the faith to put their support behind me in this way, and hopefully we can end the season on a high and help the team to fight for the title.
"Although there is still work to do to fully cover the huge costs involved in the accident, I am massively relieved that this deal is enough to ensure that we can contest the remaining races, and am also extremely thankful to those fans who have purchased the packages I launched last week, as that support has been vital.
"There is no doubt that I have fire in my belly for the remaining meeting, and I am going to give my all in these last three races."
Robert Forrester, Chief Executive of Bristol Street Motors, said:
"Our values as a business strongly include talent, drive, energy, a positive attitude and strong character; Daniel displays all of these qualities in abundance. Coming back from a crash like he did and going on to win two races at the next event was a bold testament to that – it's not something that everyone could do.
"Daniel deserves a chance to see the season out and show what he can do, and that's what we've been able to offer him. We wish Daniel the very best of luck for the rest of the races!"
Justina Williams, Team Owner of Bristol Street Motors with EXCELR8 TradePriceCars.com, said:
"Bristol Street Motors has gone a long way towards saving the day with this additional sponsorship. This sport is hard on the cars, hard on the body, and hard on the bank account, so having the backing of a fantastic partner like Bristol Street Motors – which stands by its people through thick and thin – is vital.
"Even though there is still funding to find, I am delighted that the worst of the financial situation - which was set to stop Daniel from seeing the rest of the season out - is now behind us, and we know he will be in the car for the remaining rounds. This is only his second full BTCC campaign and I have a feeling he has a lot more to give out on the track!"