Bristol Street Motors Volvo Sheffield backs the Sharks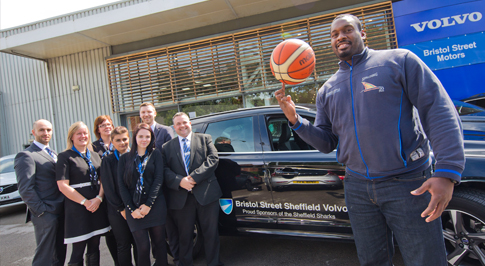 Bristol Street Motors Volvo Sheffield is helping to keep Sheffield's premier basketball team on the move, thanks to a new support deal. The Attercliffe Road dealership is supporting the 2015 British Basketball League champions in a one-year deal as part of its continued commitment to local sport.
As part of the partnership, the Sharks' star head coach, Atiba Lyons, will receive the keys to a new Volvo XC60. The team's directors have access to two Volvo XC60s, also supplied by Bristol Street Motors Volvo Sheffield.
Sheffield Sharks is the of the most successful basketball teams in the UK, and the team are the current BBL play off champions after beating Leicester Riders in the finals. Later in the year, the team expects to break ground on a new arena at Sheffield's Olympic Legacy Park.
Richard Newton, local business development manager at Bristol Street Motors Volvo Sheffield, said: "Supporting local sports is important to us, and the Sharks are a leading light on the British basketball scene, with a long and successful history, so we're only too pleased to give them our backing and proud to be associated with the most successful sports team in Sheffield.
"As head coach Atiba will no doubt be clocking up the miles scouring for new talent and a comfortable, safe and reliable car is an absolute must.
"We wish them all the best for the coming season and will be keeping an eye on their progress as they defend their record."
Atiba said: "We're pleased to be working with, and have the support of, Bristol Street Motors Volvo Sheffield this season. It's fantastic to see a local business supporting local sport so passionately."