Chance for two lucky couples to win their wedding day ride
02/11/2016 17:46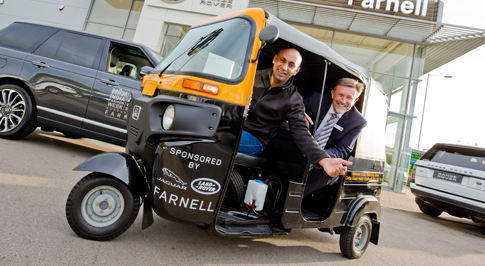 Chance for two lucky couples to win their wedding day ride
Farnell Jaguar Land Rover Bradford is offering a chance for two lucky couples to win his and her Ranger Rovers for their wedding day.
Attendees at the National Asian Wedding Show will have the chance to enter a competition to win a pair of luxury Range Rovers to ferry them to and from their wedding venue. To enter the couple must share in less than 500 words why they deserve the prize.
Garry Clayton, Head of Business at Farnell Jaguar Land Rover Bradford, said: "I'm really excited to judge the entries into the wedding car competition. I'm expecting there to be some fantastic stories and that making a final decision will be really difficult."
Farnell Jaguar Land Rover Bradford is the headline sponsor of the National Asian Wedding Show, which is to be held at the Cedar Court Hotel Bradford on 6 November. The King's Road dealership has been given an imported tuk tuk - the Asian equivalent of a rickshaw - which will be touring Bradford in the lead up to the show, giving out free tickets and merchandise, along with the chance to take a selfie behind the wheel.
Garry said: "We've had lots of people stop by the dealership to ask about the tuk tuk, or to get a selfie with it. We've even been made some offers by people wanting to drive it away, so it's been causing a real buzz in the showroom."
Manny Singh, Managing Director at ?The National Asian Wedding Show, said: "This is the eleventh year that the show has been in Bradford and we expect it to be as popular as ever with around 3,000 visitors.
"It's fantastic to have the support of a well-recognised brand as Farnell Jaguar Land Rover."