Charity bike ride gets into gear with South Hereford Garages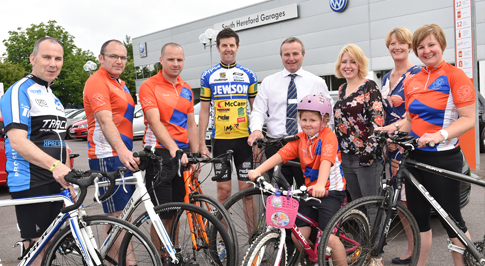 A trio of Herefordshire dealerships has helped Hereford's largest community cycling event to get into gear to raise much-needed funds for a local Hospice.
South Hereford Garages, which includes Volkswagen and Audi dealerships and Volkswagen Commercial Vehicles in Herefordshire, has made a donation to help fund the Wheelie Big Cycle Ride, which raises funds for St Michael's Hospice.
As well as taking part in the event the dealerships have also given the Hospice the use of several cars to act as escort vehicles during the event, which takes place on July 17th near South Hereford Garages Volkswagen dealership on Roman Road in Hereford.
Those taking part in the event, which is now in its fourth year, can cycle a 16, 32, 60 or 93-mile circular route. Children aged between two and ten can bring their trike, bike or scooter along to take part in the Wheelie Little Cycle, cycling some laps around a specially designed course at Hereford Livestock Market.
Colin Barker, head of business at South Hereford Volkswagen, said: "This is our third year supporting the event, and it has been wonderful to see it grow to become the area's largest community bike ride.
"It's fantastic to be able to support a local organisation in this way. Last year we had more than 30 colleagues take part, we loved it so much that we now have a cycling club which goes on rides together very regularly. We hope to have just as many taking part this year. It should be a wheelie good day!"
Event organiser Nicki Lloyd from St Michael's Hospice said: "It's wonderful to see so many people celebrating the joy of cycling. Having the support of South Hereford Garages makes a really big difference to the success of the event. We would especially like to thank all of the employees who will be taking part, and giving up their free time to volunteer on the day and help create a perfect community event.'
To find out more about the 'Wheelie Big Cycle or to enter online visit http://www.st-michaels-hospice.org.uk