Vertu Volkswagen Nottingham welcomes a £1.4m refurbishment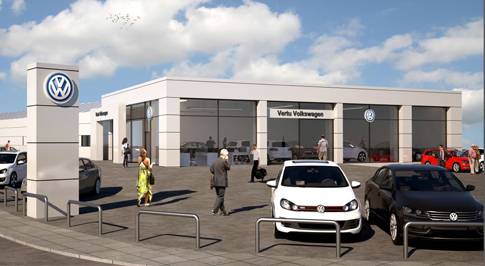 Vertu Volkswagen has started major works on a £1.4m redevelopment of its dealership in Daybrook, Nottingham.
Work has commenced on the construction of a brand new showroom, which will house 11 display vehicles as well as brand new offices to accommodate the growing team.
The state-of-the-art glass showroom, which will be in line with Volkswagen's latest franchise guidelines, is a welcoming and comfortable space for customers and an improved working environment for colleagues.
The construction of new offices on the ground and first floor of the dealership will ensure a confidential sales experience for customers.
The existing showroom will be demolished upon the completion of the project, making way for more Approved used vehicle space and an extended customer parking area.
The newly developed dealership will be a one-stop shop for Volkswagen customers with a brand new car wash and valet area as well as refurbished sales and Aftersales areas.
The refurbishment will allow the Mansfield Road dealership to continue stocking a wide selection of the newest Volkswagen cars, alongside a variety of Approved Used vehicles.
The trained team are on hand to carry out high quality servicing, MOT testing, spare parts installation and Volkswagen maintenance.
The refurbishment is expected to be completed in late 2016, however the dealership will remain open for business throughout the redevelopment period.
Vertu Volkswagen, part of Vertu Motors plc, operates five dealerships across Nottinghamshire and Lincolnshire.
Mark Dale, general manager at Vertu Volkswagen Nottingham North, said: "We're very excited to begin the major refurbishment. The old dealership looked tired and the new site is going to look fantastic, the brand new showroom is particularly eye-catching and the new offices will offer a comfortable and confidential sales experience for customers.
"The investment allows Vertu Volkswagen to continue delivering excellent customer service to its loyal customer base in Nottingham, while offering a welcoming and friendly atmosphere for new customers.
"Despite the major construction work, the Vertu Volkswagen team will still be on site to advise customers on the full range of Volkswagen models and Aftersales services. We can't wait to welcome customers to the dealership when it opens later in the year."