Coast And Castles Charity Challenge For Vertu Motors Colleagues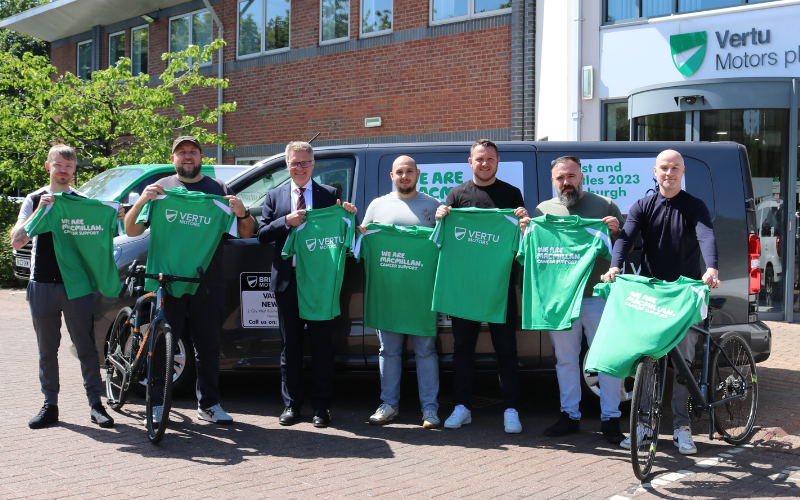 Vertu Motors group Internet Sales Team, based at the Gateshead head office, will be participating in the Coast and Castles Bike Ride in aid of Macmillan Cancer Support.
The team of 20 dedicated individuals will embark on a gruelling 284km cycling journey from Edinburgh to Roker, starting on Friday July 7, 2023.
The Coast and Castles Bike Ride is a challenging and exhilarating route that will test the endurance and determination of the Vertu team. However, their efforts are all for a great cause, as they aim to raise funds and awareness for Macmillan Cancer Support.
To showcase their commitment to the cause, the cyclists will proudly don co-branded t-shirts, featuring the logos of Vertu Motors plc and Macmillan. The visually striking shirts will help raise awareness about the charity and its tireless efforts to support cancer patients and their families.
Speaking about the upcoming bike ride, Vertu Motors plc's Prospecting & Concierge Sales Manager, Chris Fairley, said: "We are incredibly excited and humbled to be embarking on this challenging bike ride in support of Macmillan Cancer Support. This endeavour is a testament to the dedication and passion our team has for making a positive impact in our community.
"By supporting Macmillan, we hope to contribute to its invaluable work in providing support, care, and assistance to those affected by cancer."
He added: "The Vertu Motors group has always been committed to actively seeking opportunities to give back to society and encouraging colleagues to do so.
"The Coast and Castles Bike Ride is an excellent opportunity for the Group to unite its colleagues, promote physical fitness, and contribute to a worthy cause."
The team aims to raise a significant amount through their cycling feat and are encouraging colleagues, friends, and supporters to donate generously to help them achieve their fundraising goal.
Contributions can be made through the official fundraising page: https://www.justgiving.com/fundraising/bsm-vertu-dd