'Friends Reunited' Thanks To Bristol Street Motors Dealership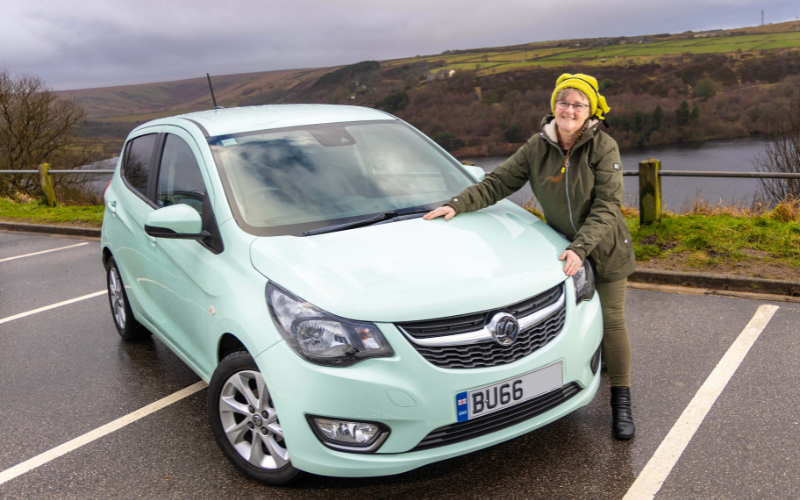 A Huddersfield woman has been reunited with her true car love after three years of searching – thanks to Bristol Street Motors Widnes Nissan.
Caroline Wood, 63, initially bought the brand-new Vauxhall Viva in 2016 from Bristol Street Motors Keighley Vauxhall, specifying both the colour – Pastel Green – and vehicle customisation to make it her own. These included Vauxhall's Winter Pack, Lane Departure Warning, a touch screen infotainment system, climate control, Intellilink for connecting her mobile phone wirelessly, plus tinted privacy rear windows. She even ordered a private number plate, to proudly display on her pride and joy.
Fast forward three happy years of motoring, including a holiday on the Isle of Wight, and financial constraints meant that Caroline had to part exchange the vehicle for an alternative.
Although happy with her Vauxhall Corsa, she never forgot her Viva, nicknamed 'Bugg', and has spent the last three years sporadically checking motor retail websites for her beloved car.
Caroline's persistence paid off when she spotted Bugg listed by Bristol Street Motors Widnes Nissan.
Caroline takes up the story: "The listed car was still awaiting photos, having just arrived and under preparation at the dealership, but I instinctively knew it was my Viva from the description. On the spur of the moment, I drove over the Pennines to Widnes and there Bugg was, looking as beautiful as ever."
After a three-year search, Caroline had made the nearly two-hour trip to the dealership and was reunited with her long-lost love.
"We are now happily back together, and I couldn't be more pleased. Some people probably think I'm crackers for getting so emotionally attached to a car, and it's difficult to explain but it just feels right for me. The moment I sat behind the wheel again, it was like coming home!
"The team at Widnes Nissan were fantastic and went out of their way to make sure that I once again became the proud owner of my car. I've promised Bugg we won't be parting ways again anytime soon!"
Mark Prince, General Manager at Bristol Street Motors Widnes Nissan, said: "My colleagues knew that something special had brought Caroline to our dealership; once we heard her story, we were delighted to make sure she was reunited with 'Bugg', the car's first owner.
"All of us here at Bristol Street Motors Widnes Nissan wish them both many happy miles together!"